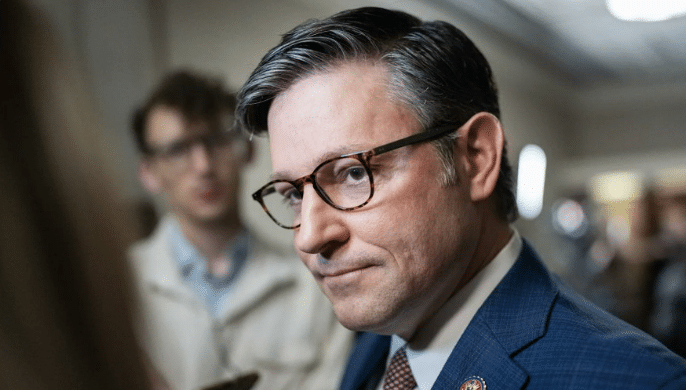 House Speaker Mike Johnson said on Thursday that the House is approaching a critical juncture in determining whether to proceed with articles of impeachment against Joe Biden.
When asked during a press conference if he believed there was sufficient evidence to move forward with articles of impeachment against Biden, Johnson responded, "I do believe that very soon we are coming to a point of decision on it."
He further stated, "We're gonna follow the evidence where it leads and we'll see, and I'm not gonna pre-determine it this morning."
Watch:
House Speaker Mike Johnson on Biden Impeachment: "We follow the truth, where it leads." pic.twitter.com/9YS2PbP7uF

— A (@gnallspiken56) November 2, 2023
Johnson, with a background in constitutional law, underscored the significance of upholding due process.
From The Hill:
"I have been very consistent, intellectually consistent in this, and persistent that we have to follow due process and we have to follow the law," he said. "That means following our obligation on the Constitution and doing appropriate investigations in the right way at the right pace so that the evidence comes in and we follow the evidence where it leads. You follow the truth where it leads."

Former Speaker Kevin McCarthy (R-Calif.), before he was ousted from the top job, directed a trio of House committees to open a formal impeachment inquiry based on the GOP conference's investigations into the Biden family's foreign business dealings and the prosecution of the president's son, Hunter Biden.
On Wednesday, the House Oversight and Accountability Committee released its second memo following the subpoena of personal bank records belonging to members of the Biden family, which includes Hunter Biden.
The latest memo highlights a $40,000 check, designated as a "loan repayment," originating from Biden's brother, James, and his wife, Sarah.
Rep. Comer detailed the sequence of events and financial transactions in a video shared on X Wednesday. In the video, he claimed that Hunter Biden put pressure on a Chinese company to pay his own company $10 million, under the threat of potential consequences from then-Vice President Biden.
Watch:
🚨 BREAKING 🚨

We've followed the money and identified how Joe Biden received $40,000 in laundered 🇨🇳 China money.
@RepJamesComer lays out the money trail. 👇 pic.twitter.com/lH69OUOHid

— Oversight Committee (@GOPoversight) November 1, 2023
.@GOPoversight has uncovered two checks totaling $240,000 laundered straight to Joe Biden's bank account.

These Biden Bribery Bucks originated in the Middle East and China and were passed to Biden family members for their name.

No office holder should engage in selling out… pic.twitter.com/ipBswoVKOS

— Rep. Marjorie Taylor Greene🇺🇸 (@RepMTG) November 1, 2023
While the Speaker has not made an official announcement yet, House Republicans have indicated their intentions during an appearance on Sean Hannity's show on Wednesday, suggesting that the impeachment is likely to proceed.
Watch:
WATCH: Sean Hannity asks the room full of House Republicans to raise their hands if they think they are headed towards impeaching Biden, and apparently everyone raised their handspic.twitter.com/rMgKasMH1F

— Insider Paper (@TheInsiderPaper) November 2, 2023