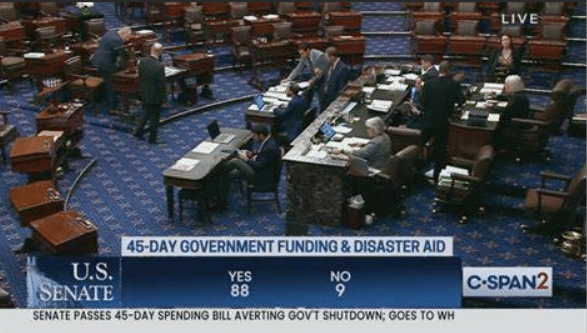 In an 88-9 vote, the Senate approved a stopgap measure that will provide a temporary 45-day extension to avert a government shutdown. This vote was concluded with only three hours remaining before the end of the fiscal year.
Earlier in the evening, the House passed the short-term spending bill, also referred to as a continuing resolution, with a vote of 335-91.
We now know 90 Republicans voted against McCarthy's stopgap bill. The Republicans who voted for it need to be primaried. https://t.co/9v60bUtRo0

— Scott4Trump (@Scott_4Trump) October 1, 2023
Below is a list of the nine Republican Senators who voted against the measure:
Sen. Marsha Blackburn (TN)
Sen. Mike Braun (IN)
Sen. Ted Cruz (TX)
Sen. Bill Hagerty (TN)
Sen. Mike Lee (UT)
Sen. Roger Marshall (KS)
Sen. Rand Paul (KY
Sen. J.D. Vance (OH)
Sen. Eric Schmitt (MO)
Only 9 Republican Senators Voted Against Stopgap Spending Measure pic.twitter.com/DMxqR22qot

— The Triune Times (@TriuneTimes) October 1, 2023
From the New York Times:
Congress narrowly averted a government shutdown on Saturday with just hours to spare as the House, in a stunning turnabout, approved a stopgap plan to keep the federal government open into mid-November and the Senate then cleared it and sent it to the White House.

The Senate voted 88-9 to approve the measure, which President Biden was expected to sign.