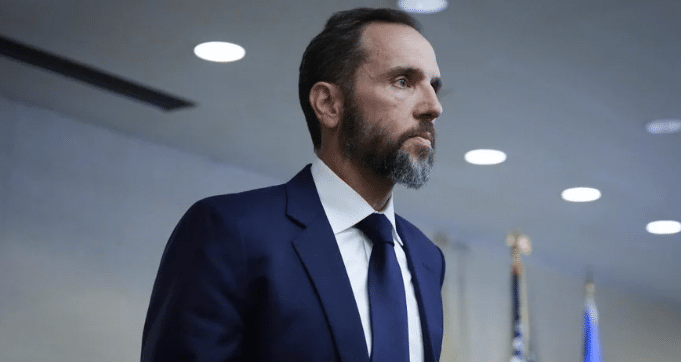 Special Counsel Jack Smith has admitted that he included erroneous information when he requested a secret search warrant from Judge Beryl Howell, an Obama-appointee, for Trump's Twitter account @RealDonaldTrump.
X, formerly Twitter, faced a fine of $350,000 for the delayed submission of the subpoenaed records.
The secrecy surrounding the search warrant was so extensive that even Trump himself was unaware of Jack Smith's issuance of a subpoena for the records.
Biden's corrupt Justice Department secured a nondisclosure order, preventing X from notifying Trump about Jack Smith's subpoena.
Throughout the extensive legal battle spanning several months, X argued that the nondisclosure order violated both the First Amendment and the Stored Communications Act.
The Justice Department argued Trump would put the "ongoing investigation" in jeopardy.
As reported by CNN, the DC Circuit Court of Appeals determined that there were "reasonable grounds to believe" that disclosing the search warrant to Trump would "jeopardize the ongoing investigation."
Jack Smith has openly admitted to Judge Howell that he included inaccurate information when he claimed that Trump might pose a flight risk if he were made aware of the secret search warrant.
"The district court also found reason to believe that the former President would 'flee from prosecution,'" read the decision from DC District Court of Appeals. "The government later acknowledged, however, that it had 'errantly included flight from prosecution as a predicate' in its application for the non-disclosure order."
"U.S. District Judge Beryl Howell granted the warrant and the nondisclosure order. The appeals court ruling upheld his decision. Howell's original order is not public, though the appellate court indicated he felt there was reason to believe Trump's awareness of the warrant could undercut the investigation by allowing him to obstruct it." Just the News reported.
"Howell evidently agreed with the erroneous elements claiming Trump would be a flight risk, though the appeals court determined that consideration was not the definitive reason for his granting the nondisclosure order." according to Just the News.
Jack Smith has a track record of lying and withholding evidence that could clear the accused.
This disclosure represents the second "error" to emerge from Smith's office in under a week.
In a recent admission, Jack Smith conceded that his team failed to provide the defense counsel with all of the Mar-a-Lago security footage during the initial stages of discovery.
Judicial Watch president Tom Fitton reacted to the new admission by Jack Smith on Twitter, saying, "SHUT IT DOWN! Jack Smith admits he included inaccurate info when asking judge to hide Trump Twitter warrant"