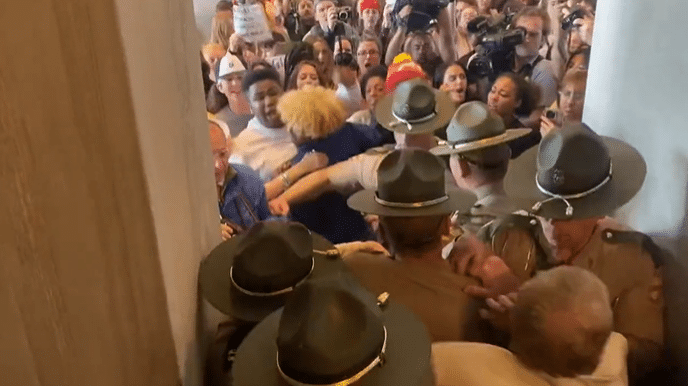 INSURRECTION!
A large group of gun control and Trans activists stormed the Tennessee Capitol building, demanding gun control after a transgender terrorist killed six innocent Christians, including three children at The Covenant School in Nashville, Tennessee.
The insurrectionists chanted, "No action, no peace!"
Watch:
The insurrectionists were seen on video pushing police officers as they struggled to keep the insurrectionists from reaching the Capitol floor.
Watch:
More:
More:
CBS reported:
Hundreds of school children, teens and parents gathered at the Tennessee Capitol on Thursday to protest for tighter gun controls laws three days after a shooter opened fire at The Covenant School, killing three children and three adults.

At the Capitol, protestors lined the hallways and chanted at the state's Republican-dominated Legislature as they filed in to begin taking up bills for the first time since the shooting.

Chants of "Save our children!" echoed noisily in the hallways between the state Senate and House chambers, with protesters setting up shop inside and outside the Capitol. Some silently filled the Senate chamber's gallery, including children who held signs reading "I'm nine" — a reference to the age of the three kids who died in Monday's attack. Most protesters were removed from the gallery after some began yelling down at the lawmakers, "Children are dead!"
Three Tennessee Democrats called for and promoted the insurrection all week, encouraging protestors to storm the Capitol.
Where are the arrests?