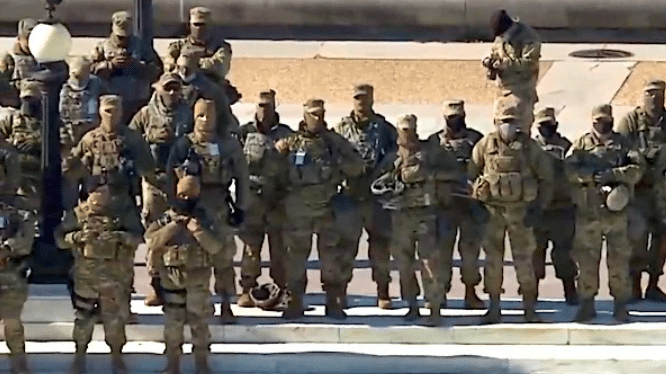 New York Governor Kathy Hochul, a Democrat, has called on the National Guard to assist in managing the influx of illegal immigrants entering the state.
The move comes as a response to the mounting crisis at the Texas-Mexico border, where tens of thousands of illegals have been arriving in recent weeks.
Additionally, the state of Texas has been busing some of these illegals to New York and other Democrat-led sanctuary states, which have been struggling to cope with the resulting strain.
The decision to deploy the National Guard has been met with mixed reactions, with some New Yorkers expressing concern over the impact of the migrant crisis on their communities, while others have advocated for more compassionate and supportive policies towards those "seeking refuge" in the United States.
From Fox News:
Democratic New York Gov. Kathy Hochul announced Monday she is calling in the National Guard to assist in the ongoing migrant criss.

Hochul announced an additional 150 National Guard members will be deployed to address the migrant crisis and help with case management to get asylum seekers work permits – particularly Venezuelans who now qualify for temporary protected status.

The additional 150 members bring the total number of National Guardsmen supporting the mission to 2,200. The governor said 250 National Guard members will focus solely on case management to help the Venezuelans who came before July 31 to apply for Temporary Protected Status – and then work authorization.

"Now that we have the opportunity granted by President Biden to help the Venezuelans who came before July 31st be able to apply for temporary protective status and what follow that literally with the same application, is the work authorization — that coveted work authorization. That's their ticket to the American Dream," she said.
Governor Kathy Hochul's decision to call on the National Guard to assist with the migrant crisis in New York has sparked controversy, with some criticizing the move as a misguided use of resources.
According to reports, the National Guard will be tasked with providing work permits to migrants who are being housed in the state. While advocates for the migrants welcome this move, others are concerned about the impact on taxpayers and the potential displacement of American workers.
With the state already facing significant budget deficits and high unemployment rates, the decision to divert resources towards providing work permits to illegal aliens has been met with anger by some.
The Rotten Apple is getting bigger & bigger with their self imposed immigration approvals,illegals & otherwise. HipHipHoorays are in order. You voted for this. Democrat Gov. Kathy Hochul calls in National Guard amid New York's worsening migrant crisishttps://t.co/0fdat6VIb1

— Lady Tigress "Those were the days my friend" (@LadyConstance8) September 25, 2023
Be careful what you wish for, you just might get it. You wanted sanctuary city status and you got it. Real life is a lot different than a virtue signal isn't it NY.
Love-Texashttps://t.co/knngfLZ66z

— Quintessential American🇺🇸 God,Family,1A,2A🇺🇸 (@Gibson5972) September 25, 2023
As the migrant crisis at the southern border continues to escalate, the strain on sanctuary cities like New York is becoming increasingly apparent.
With more illegals arriving each day, it seems inevitable that the city's resources will be stretched to the limit, and it remains to be seen how long it will be before the strain becomes too much to bear.
The National Review reported on the tension between Governor Kathy Hochul and New York City Mayor Eric Adams over the handling the crisis.
Last week, Hochul directed the New York State Department of Labor to connect employers with newly-eligible asylum seekers and migrants who are pursuing work authorizations. For that effort, over 70 state personnel representing 16 separate state agencies were assigned, a press statement said.

"Work authorization is the way out of the migrant crisis," Hochul said. "Individuals who achieve legal work status will be able to exit the shelter system, find work opportunities and get their shot at the American Dream."

Over 116,000 migrants have arrived in NYC since the spring, when border states began busing migrants to blue "sanctuary cities" which have committed to providing shelter and social services to all individuals regardless of immigration status. At a recent town hall meeting in Manhattan, Adams said New York City is receiving 10,000 migrants per month. "This issue will destroy New York City," Adams said.

Mayor Eric Adams has bickered with Hochul over the migrant fiasco, with both accusing the other of not investing enough resources to combat it. Adams called out Hochul for refusing to intervene in the city's dispute with upstate counties, which are suing to stop the city from busing migrants to hotels in their jurisdictions. Despite his statement that the migrant crisis is untenable, Adams has yet to renounce the city's sanctuary status, which guarantees shelter and social services for all migrants.
This situation could have been easily prevented.
Republicans have long warned of the potential consequences of uncontrolled immigration, and it seems that those warnings have now come to fruition.
We have known that the never ending stream of illegal immigrants into our country would have catastrophic consequences.