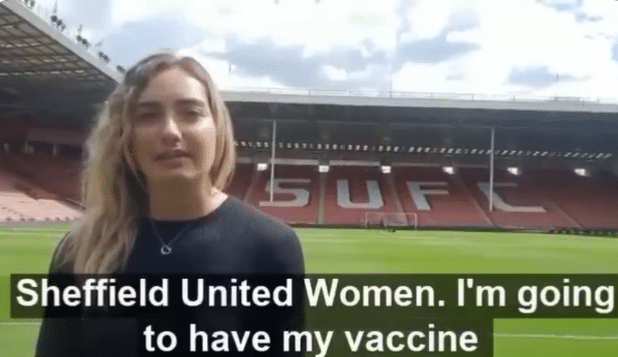 Maddy Cusack, a cherished soccer star in the UK, died suddenly last week, as confirmed by her team Sheffield United.
Maddy was only 27 years old.
Despite it being nearly a week since her passing, the cause of Cusack's death has been withheld from the public. However, according to police, foul play is not suspected.
In a press release, her team didn't provide any clues regarding the circumstances of the 27-year-old's untimely passing. However, they expressed that Cusack's death was "heartbreaking news for everyone at Bramall Lane."
27 year old Maddy Cusack was a young athlete who was vaccinated and now has passed away. Beautiful young soul. All these young athletes and others are dying after being vaccinated. Wake up! All your negative messages show how brain dead you are, it doesn't fit your narrative🐑🐑 pic.twitter.com/hFHokOSqgo

— Lorig (@Lorrr45) September 23, 2023
From CNN:
Maddy Cusack, a midfielder in English soccer's second division, died on Wednesday, according to her team Sheffield United. She was 27.

The club said in a press release it was "devastated to report the sad news" of Cusack's passing.

A tribute was held for her before Sheffield United men's Premier League fixture against Newcastle on Sunday, as family members walked onto the pitch and Sheffield United players wore replicas of her jersey before kickoff.

Sheffield United did not report a cause of death, but said that tributes and discussions on how to celebrate her life with suitable tributes are continuing.

Stephen Bettis, Sheffield United's chief executive officer, said: "This is heartbreaking news for everyone at Bramall Lane. Maddy had a unique position of being part of a number of teams at Sheffield United and was popular with everyone that she came into contact with.
More from Independent:
Police have said there are no suspicious circumstances regarding the death of the Sheffield United Women's player Maddy Cusack.

The 27-year-old passed away on Wednesday, with her death described as "heartbreaking news" as tributes flooded in from Blades players and across FA women's football.

Derbyshire Police said on Monday that she was pronounced dead at a property in Horsley but that the death is not being treated as suspicious.