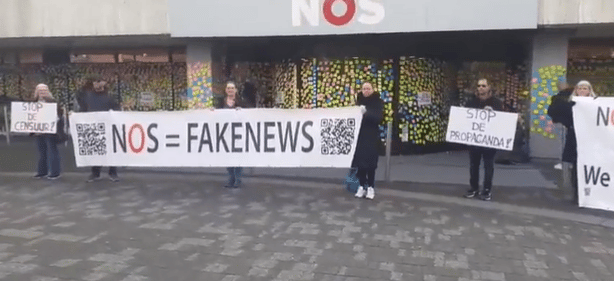 Citizens of Hilversum Netherlands posted the names and dates of people who died after taking COVID-19 and other vaccines on windows of NOS, the largest news agency in the Netherlands.
There were 14,445 post-it notes stuck to the windows, each one representing a COVID vaccine death.
Protesters gathered outside the NOS building, holding signs that read "NOS = FAKENEWS", "stop lying", "stop the censorship"…, Nine for News reported.
Watch:
"The post-its included texts such as 'sudden death', 'heart failure after injection', 'suddenly the new normal' and 'Pfizer report'. In addition, names were mentioned: 'Jonathan, 42 years old', 'René is dead'. Between the post-its there were also A4s that read: 'media = virus', 'media stop lying' and 'bought journalists,' according to the outlet.
14,445 post-it notes were stuck to the building.
Watch:
Recently, at least six BBC buildings across the UK were covered with stickers with photos of people who died from the COVID vaccine.
The rally called the "media is the virus" was held on Saturday, January 7th, and it was organized by three different groups: The People's Resistance, Freedom Fighters, and The North Unites.
"BBC buildings today were given some TRUTH," a post on Telegram reads. "Enough is enough…. the media is complicit in the biggest crimes against humanity and need to be held accountable for the deaths and harms caused to our friends and families."
Watch: