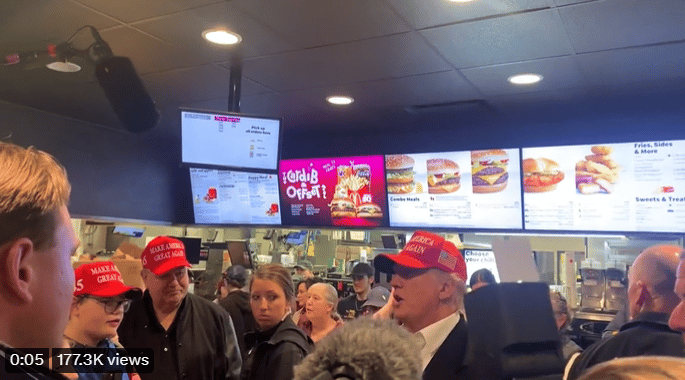 President Trump's visit to East Palestine, Ohio was a triumph.
Joe Biden is in Ukraine giving another $500 million of our money to the country.
Biden's Secretary of Transportation, Pete Buttigieg, is "taking some personal time".
Meanwhile, President Trump landed in Ohio Wednesday afternoon. He met briefly with local leaders at Little Beaver Creek before making his remarks to the media.
Supporters lined the streets to greet President Trump cheering and chanting, "We love you, Trump!" and "U.S.A.!"
Trump donated thousands of pounds of food, water and other goods, which arrived in East Palestine shortly before he did.
Trump spoke to a small group of local leaders, first responders and the media at the local fire station.
Trump then went to McDonald's where he handed out signed MAGA hats and bought lunch for the local firefighters, police officers and other first responders.
Watch Trump tell McDonald's workers: "I know this menu better than you do. I probably know it better than anybody in here."
WMFJ covered Trump's speech Wednesday in East Palestine:
President, Donald Trump paid a visit to the village of East Palestine on Wednesday in reference to the recent train derailment disaster.

Trump was joined by J.D. Vance, Valley Congressman, Bill Johnson. East Palestine Mayor, Trent Conaway, Ohio Senator, Michael Rulli and his son, Donald Trump Jr.

During his visit, Trump addressed the village residents, calling the situation a "tragedy" and assured residents that they are "not forgotten" and praised officials such as Johnson, Vance and Mayor Conaway for their handling of the derailment.

The former president also criticized President Biden and FEMA for not sending federal aid to the village claiming that they "changed their tune" when he announced he was visiting.
Watch: