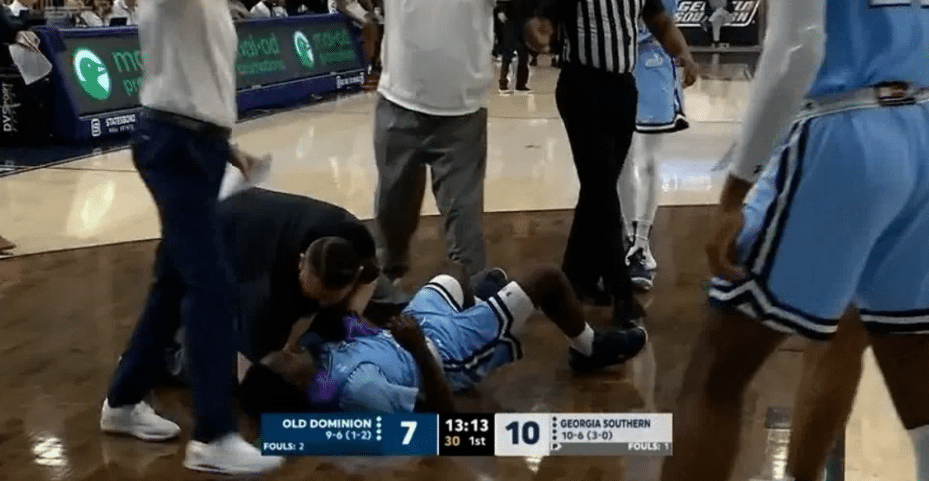 This is NOT normal.
This is not something that "has always happened but you just didn't notice," as some people have claimed.
This is new and it started shortly after the rollout of the covid-19 vaccines.
An Old Dominion University men's basketball player collapsed suddenly during a game on Saturday.
The cause of the collapse has not yet been revealed.
Watch:
The ODU basketball team released this statement following the game:
"Imo Essien was evaluated by the ODU Athletic Training staff along with the GA Southern medical staff," the school stated. "He was responsive throughout and was able to sit with the team for the duration of the game and drove home with the team."
"He is in good spirits and will work with the ODU Sports Medicine Staff when they return to Norfolk," the statement continued.
From Wavy 10 News:
Members of the Old Dominion men's basketball team watched in shock, and many held back tears, as their teammate Imo Essien had to be tended to by training staff from both ODU and Georgia Southern on Saturday.

Essien, a sophomore guard, appeared to become weak, then collapsed during play in the first half of the contest.

After a few tense moments, Essien, who did not appear to lose consciousness, was helped to his feet and walked off the court with the help of the trainers. "He was responsive throughout and was able to sit with team for the duration of the game and travel back with the team," read a statement from ODU.

"He is in good spirits and will work with the ODU Sports Medicine staff when they return to Norfolk."
Rumble backup: