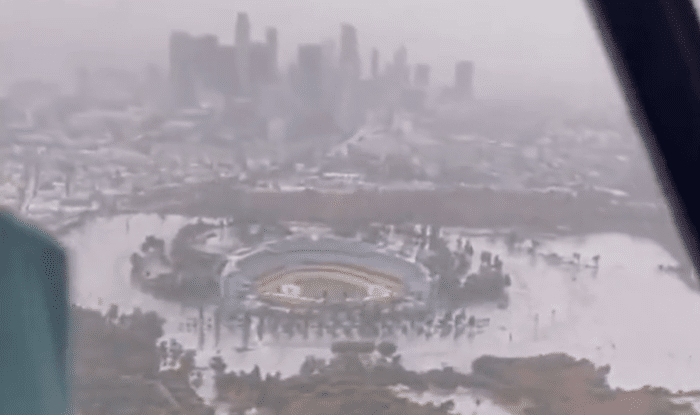 The Los Angeles Dodgers had to cancel their recent game against the Miami Marlins due to flooding at Dodgers Stadium caused by Hurricane Hilary.
Hurricane Hilary made landfall in California on Sunday, leading to extensive flooding, mudslides, and strong winds across the region.
Officials have warned that the situation could deteriorate further, prompting Governor Gavin Newsom to declare a state of emergency.
Aerial footage of Los Angeles Dodgers Stadium was shared on social media, revealing the stadium surrounded by rising waters.
Watch:
From Newsweek:
The Major League Baseball game between the Los Angeles Dodgers and the Miami Marlins was rearranged due to the arrival of Hurricane Hilary in California and the extent of the flood water it created can be seen in an incredible video.

A video shared on X, formerly known as Twitter, taken from a helicopter flying over Dodgers Stadium, shows the sporting arena as an island in the middle of rising water.

The video clip has been viewed over 248,000 times since it was uploaded on Sunday evening, Pacific time, and is an eye-opening documentation of the devastating impact of Hurricane Hilary on the state.