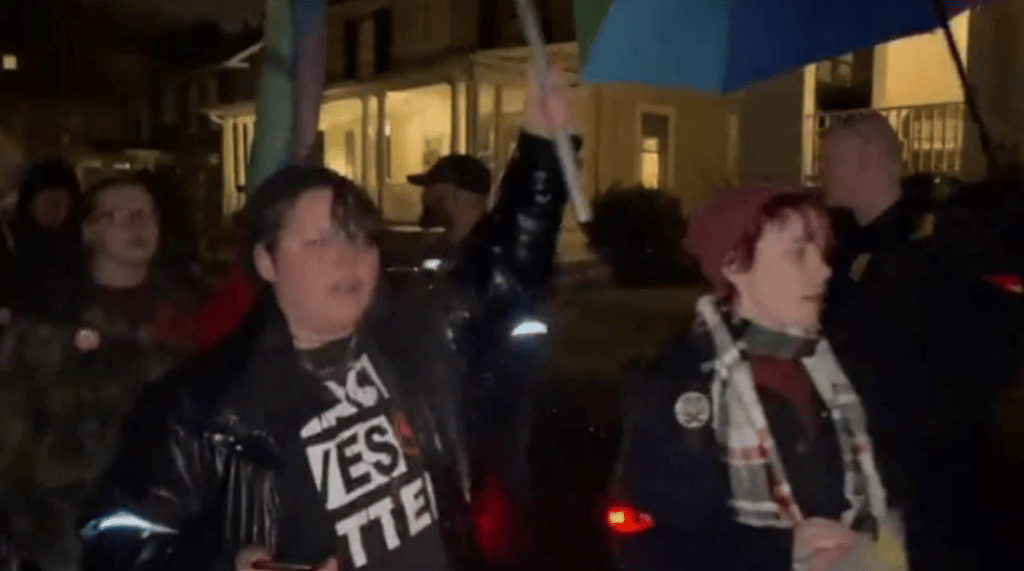 Radical pro-abortion activists once again protested outside the home of U.S. Supreme Court Justice Brett Kavanaugh on Sunday.
The protesters chanted as they marched past a line of police in front of Kavanaugh's Chevy Chase, Maryland home, "Cut his time short! A rapist should not rule the court!" and "No privacy for us! No peace for you!"
Kavanaugh was falsely accused of rape during his confirmation hearings in 2018.
Watch:
Olahan notes, protesting at justices' homes to influence the Court is against the law.
Although they marched past a line of police, no arrests were reported from last night's protest.
Conservative Supreme Court justices have been relentlessly harassed by pro-abortion activists since the Supreme Court's decision to overturn Roe V. Wade was leaked in May of last year.
Last June, a leftist protestor attempted to assassinate justice Kavanaugh at his home.
From Breitbart News:
The activist group Our Rights DC organized the protest outside of Kavanaugh's to commemorate the 50th anniversary of the landmark pro-abortion Roe v. Wade decision, which the Supreme Court overturned last summer.

Some protesters held signs that read, "safe abortion saves lives," and "abortion saves lives," according to videos uploaded to Twitter by Daily Signal senior reporter Mary Margaret Olohan.

"No privacy for us! No peace for you," some of the protesters reportedly chanted.

The protesters also made references to the false rape accusation that plagued Kavanaugh during his Senate confirmation hearings in 2018.

"Cut his time short, a rapist should not rule the court," the protesters chanted in a call and response as they marched outside Kavanaugh's home.

Police stood guard on the sidewalk between Kavanaugh's home and the protesters as they marched in the rain.

The protesters planned to protest outside of Chief Justice John Roberts's home but skipped out "likely because its miserable freezing rainy weather," Olohan reported.

Protesting outside of a Supreme Court justice's home is illegal under federal law, as Olohan noted.

"A reminder that 18 US Code 1507 forbids picketing or parading 'in or near' a building or residence occupied by a judge with the intent of 'obstructing, or impeding the administration of justice, or with the intent of influencing any judge, juror, witness, or court officer,'" Olohan tweeted.

Since the Supreme Court's decision to overturn Roe was leaked in May, pro-abortion activists have targeted the homes of the Court's conservative justices as protest sites. Further, the leaked decision spurred orchestrated targeted attacks on pro-life institutions nationwide by a network of far-left militant groups, as Breitbart News editor-in-chief Alex Marlow reported in his "summer of rage" series.

The Family Research Council found that more than 100 attacks have occurred on churches, pro-life organizations, and pregnancy resource centers in the aftermath of the leaked decision.

The protests outside of Kavanaugh's home also come after a California man was arrested in Maryland in June for attempting to murder Kavanaugh.