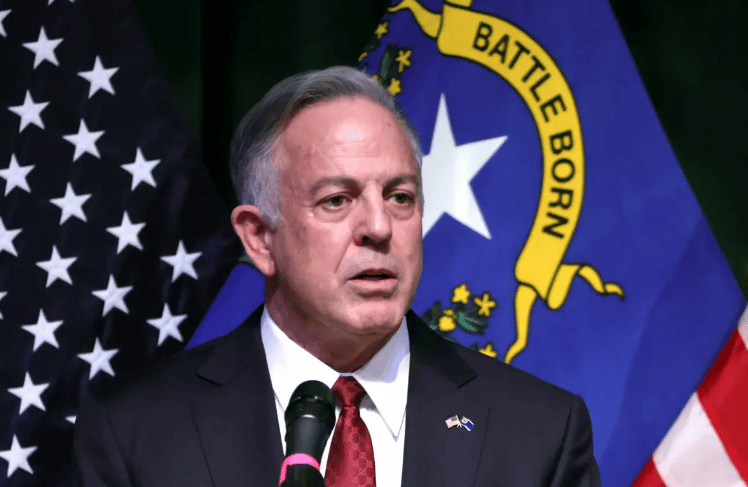 "This emergency declaration will allow us to receive federal waivers and resources as we navigate the evolving repair timeline, and it will allow us to increase transportation of fuel by other means during this time. As we continue to monitor this dynamic situation, our office will remain in constant communication with Kinder Morgan, the Nevada Division of Emergency Management, and Clark County officials," he added.
Gov. Lombardo urged his constituents to avoid panic buying, however, several videos and images on social media showed long lines at gas stations in Las Vegas.
The Las Vegas Review Journal reported:
Gov. Joe Lombardo declared a state of emergency Friday night after a leak was detected Thursday in a pipeline that supplies fuel to Las Vegas.

The leak of about 205 gallons of gasoline from an above-ground pipeline was detected at a pumping station in the Watson neighborhood of Long Beach, California.

The Kinder Morgan energy company shut down its 566-mile CalNev pipeline to investigate a release, according to a statement from the company. The pipeline supplies gasoline, diesel and jet fuel to locations throughout California and Nevada, including Las Vegas, according to the company's website.

"To avoid any unnecessary shortages, I strongly urge all Las Vegas residents to avoid panic buying while awaiting repair timeline updates," Lombardo said in a statement.

Clark County also declared a fuel emergency late Friday.

"This leak has not impacted the supply of fuel, but rather the method in which this fuel normally comes into Southern Nevada," a county statement read.

Lombardo's declaration directed the Nevada Department of Agriculture to request from the Environmental Protection agency, "any necessary fuel waivers to expand the available fuel options."

Katherine Hill, Kinder Morgan's corporate communications manager, said that only the pipeline that delivers unleaded and diesel fuel to the valley has been affected and that the leak has not had any effect on jet fuel deliveries to Harry Reid International Airport.

A report filed by the company Thursday said that Kinder Morgan contained the spill and that there were no reported injuries as a result of the incident.

"The appropriate regulatory agencies have been notified, and an investigation into the cause and quantity of the release will be conducted. We are working closely with our customers on potential impacts," the statement said.

Kinder Morgan is not the only fuel supplier for Las Vegas, which also receives gasoline from refineries in Salt Lake City, according to the U.S. Energy Information Administration.

Clark County spokesman Erik Pappa said the county believes it has an adequate supply of fuel and "does not anticipate an immediate impact on gas availability."
According to the declaration it will expire in 15 days unless it is renewed.