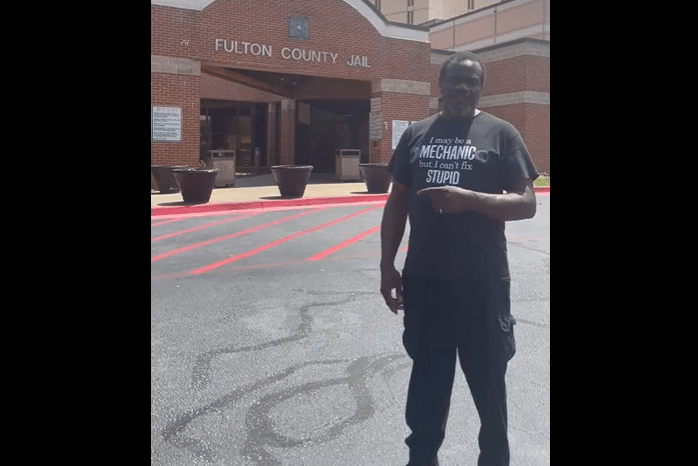 Harrison Floyd, one of the co-defendants alongside President Trump, will remain in custody at Fulton County Jail due to Judge Emily Richardson's refusal to grant him bail.
Floyd was charged in a Georgia racketeering case along with 18 other co-defendants, which includes Trump. He was taken into custody in May on charges of assaulting an FBI agent who was delivering a subpoena connected to a federal inquiry led by special counsel Jack Smith. The investigation revolves around alleged efforts to challenge the outcome of the 2020 election.
Judge Richardson determined that Floyd posed a potential risk of engaging in further criminal activities or attempting to evade the legal process if he were to be released. She stated, as reported by CNN, "There are grounds for bond to be denied at this point. I'm going to go ahead and find that you are a risk to commit additional felonies and a potential risk to flee the jurisdiction."
Derrick Gibson, a former candidate for the New York gubernatorial race, was observed outside the Fulton County jail, advocating for the release of Floyd.
"I'm at the Fulton County jail checking in on Harrison Floyd, the only Black guy that went in and did not come back out on yesterday," he said. "What I said yesterday about the two-tiered justice system is just what it is… two-tiered."
"Everybody else got out but the black guy," he added. "This man had less charges than any other of the 19 but he is still being held with no bond," he added.
Watch:
Trump-supporting Georgia man demands the release of Harrison Floyd, the Black man who is the only Trump case defendant being held at Fulton County's jailpic.twitter.com/DePTGd3c5k

— Kyle Becker (@kylenabecker) August 26, 2023
The matter of a "full consideration of bond" will be overseen by Judge Scott McAfee, who is assigned to the case.
Harrison Floyd, the black man who led Black Voices for Trump, is the only one of the 19 co-defendants in jail without bail. His crime is being black while supporting #Trump. I would like to see Floyd's treatment get more media attention. He is being treated like the January 6th… https://t.co/wEneM4FD1e

— Dr. Carol M. Swain (@carolmswain) August 25, 2023
In his first virtual court hearing on Friday, Floyd appeared wearing prison attire and said could not afford private legal counsel. Yet, Richardson said that he did not meet the criteria for receiving a court-appointed lawyer. Additionally, Floyd claimed that he had not been read his Miranda rights.
Floyd is facing multiple charges, including violation of Georgia's anti-racketeering law, witness tampering, and conspiracy to make false statements. Prosecutors allege that Floyd tried to pressure an Atlanta election worker into admitting her involvement in mass voter fraud.
As of Saturday, a legal defense fund set up for Floyd had raised over $160,000.
Please consider donating here.