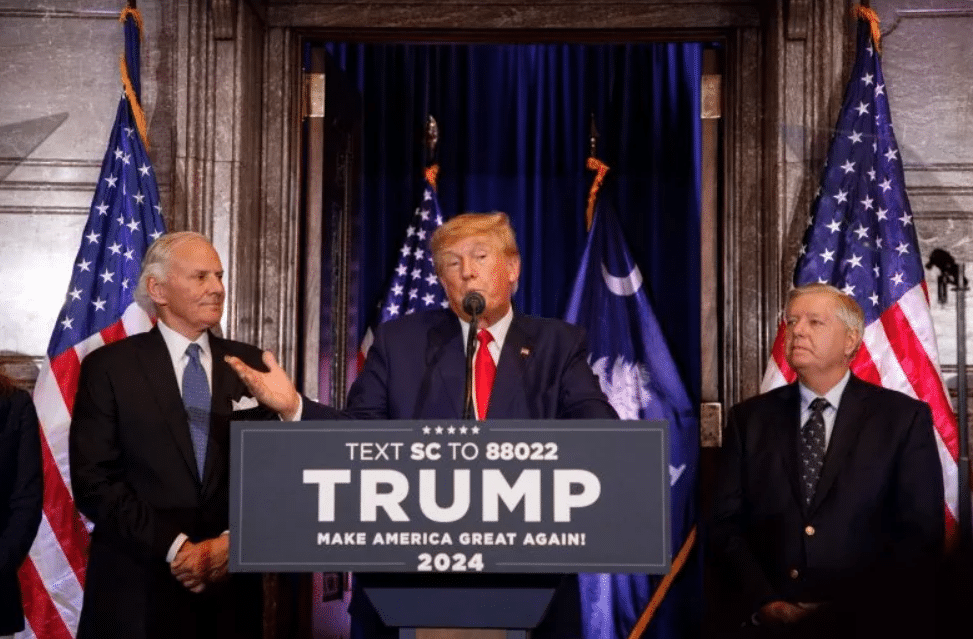 President Trump kicked off his 2024 Presidential campaign on Saturday with rallies in New Hampshire and South Carolina.
Before stopping in South Carolina, Trump gave the keynote address to the New Hampshire state GOP's annual meeting. Trump made big promises to Granite Staters that he wouldn't touch their first-in-the-nation primary and said "we have huge rallies planned, bigger than ever before."
His speech saw him go from criticizing Joe Biden to railing against transgender rights and mocking the use of electric stoves and electric cars.
And, of course, he addressed the ongoing conflict between Russian and Ukraine and how Joe Biden has brought the world to the brink of World War III.
"Through weakness and incompetence, Joe Biden has brought us to the brink of World War III," he said. "We're at the brink of World War III, just in case anybody doesn't know it. As president, I will bring back peace through strength."
Trump suggested Biden should acknowledge that his son, Hunter, was "not working out well."
Trump railed against transgender rights and the teaching of critical race theory.
"We're going to stop the left-wing radical racists and perverts who are trying to indoctrinate our youth, and we're going to get their Marxist hands off of our children," Trump said.
"We're going to defeat the cult of gender ideology and reaffirm that God created two genders: men and women. We're not going to allow men to play women's sports."
Trump slammed the FBI storming of Mar-a-Lago and the weaponization of our government and justice system.
"We're going to stop the appalling weaponization of our justice system," he said. "There's never been a justice system like this. It's all investigation, investigation. I've been going through it for seven years."
Trump also mocked those promoting the use of electric stoves and electric cars, calling it "ridiculous."
"The cars go for like two hours. What are you going to do? Everyone's going to be sitting on the highway. We're all going to be looking for a little plug-in. Does anybody have a plug-in? My car just stopped. I've been driving for an hour and 51 minutes. It's ridiculous."
Watch Trump's full speech via RSBN on Rumble: