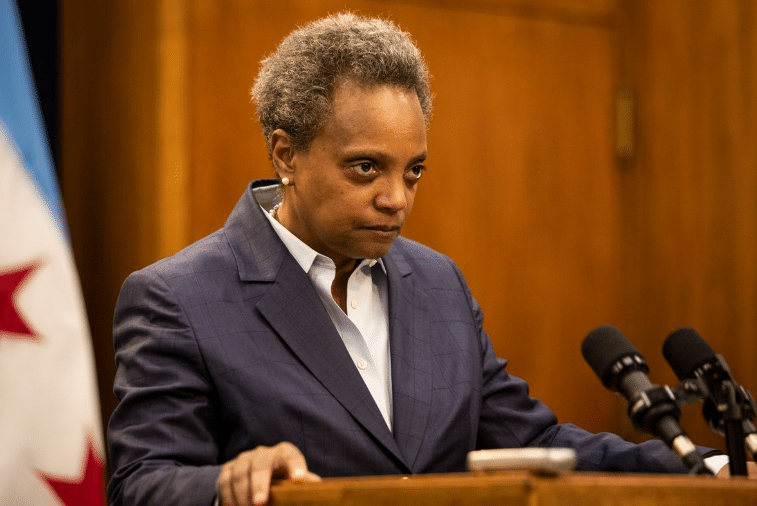 Chicago just became a better place.
Chicago mayor Lori Lightfoot, a Democrat, conceded last night after placing third to Paul Vallas and Brandon Johnson in the Chicago mayoral race.
Vallas and Johnson received 35% and 20% of the votes, respectively. Lightfoot, the incumbent, is nowhere near being able to make the runoff, receiving 16% of the votes.
Lightfoot has an abysmal record as mayor of Chicago.
Under Lightfoot crime soared and homicides went through the roof.
Companies such as Tyson, Boeing, Caterpillar, and Citadel fled the city amid the city's rampant violent crime.
When she wasn't busy hurling F-bombs at republicans, she was posting creepy, cringeworthy videos of herself singing and dancing.
From Trending Politics:
Lori Lightfoot, the Democrat mayor of Chicago, has been defeated in the Chicago mayor runoff campaign. Paul Vallas, an outspoken opponent of Lightfoot during her three-year mayoral leadership, received nearly twice as many votes as Lightfoot.

Vallas is expected to advance with Brandon Johnson to the April 4 runoff election for the Chicago mayor role. Vallas and Johnson received 35% and 20% of the votes, respectively. Lightfoot, the incumbent, is nowhere near to being able to make the runoff, receiving just 16% of votes.

Lightfoot constantly criticized Vallas for being too conservative as he made calls for more police within Chicago and equated Lightfoot's vaccine mandate for Chicago workers to the Holocaust, Mercury News reported. Lightfoot is a far-Left progressive beloved by many within the Democrat party. When elected in 2019, she became the first Black woman and openly gay mayor to serve as Chicago's mayor.

Mayor Lightfoot was often ridiculed by right-wing Chicagoans for her anti-police rhetoric, support for gun control, and severe COVID-19 pandemic restrictions.

Both Brandon Johnson and Paul Vallas are members of the Democrat party. Vallas currently holds a 15% lead over Johnson. However, Vallas does promote tough-on-crime messaging which could lead him to victory within the crime-ridden city of Chicago.
Lightfoot conceded Tuesday night.
Watch:
There will be a runoff election between Paul Vallas and Brandon Johnson on April 4th.
From Politico:
Vallas ran to the right of Lightfoot and has focused primarily on public safety. He won the endorsement of Chicago's conservative Fraternal Order of Police and faced accusations from his rivals of being a Republican despite declaring himself a Democrat.

And although Johnson, a progressive with the backing of the Chicago Teachers Union, doesn't use "defund the police" rhetoric, he has argued for police resources to be redirected to the city's social service agencies.

None of the nine candidates on the ballot came close to securing the 50 percent needed to win the nonpartisan election outright Tuesday.

"I haven't been this happy since my son returned from Afghanistan," Vallas, who was projected to make the runoff less than 45 minutes after polls closed on Election Day, told supporters at an event space called City Hall.
Lightfoot's critics took to Twitter to express their pleasure that Chicago will have new leadership.
Gianno Caldwell, a Fox News political analyst whose brother was killed in Chicago last summer, wrote that the Lori Lightfoot "experiment" is "officially over. Thank you, CHICAGO."