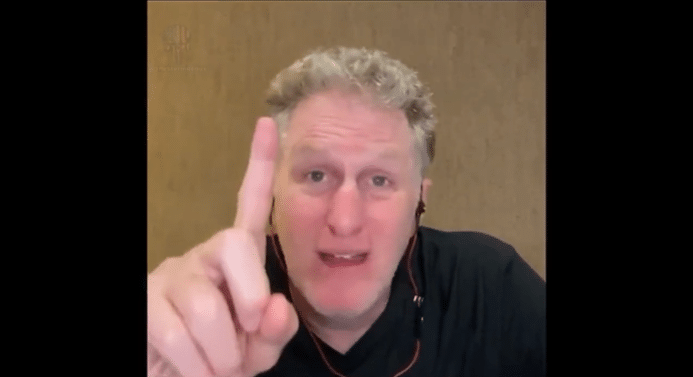 Infamous Trump-hating American actor and "comedian" Michael Rapaport is widely known for his unhinged profanity-laced rants against President Trump, which is a common symptom in those suffering from advanced Trump Derangement Syndrome (TDS). However, the current state of affairs in the United States under Joe Biden might lead Rapaport to consider voting for Trump in the 2024 presidential election.
Rapaport said if the choice is between Donald Trump or Joe Biden, that voting for Donald Trump is a possibility.
He said, "I'm sorry! "But we need to get this whole f****** situation under control."
Watch (WARNING: Strong language):
P!g D!ck 2024? pic.twitter.com/9yYmbqoHtn

— MichaelRapaport (@MichaelRapaport) November 17, 2023
Joe Biden is causing so much harm to the United States that even lunatic anti-Trumpers, like Rapaport, are ditching him.
Reactions from social media users:
The biggest Trump hater in the world says he might vote for Donald Trump if Joe Biden is on the ticket for 2024. Let that sink in. https://t.co/atNyTl67vW

— Ian Miles Cheong (@stillgray) November 17, 2023
You know it's bad when the Stage 5 TDS patients turn on Biden. https://t.co/TeHQhjmZig

— Amy Moreno (@VivaLaAmes11) November 17, 2023
This is how terrible things are in this country. The people who absolutely hate and despise Donald Trump want him back. https://t.co/djfa15e2xm

— Five Times August (@FiveTimesAugust) November 17, 2023
Hell has frozen over? https://t.co/ILKJsXQC1q

— Natalie Jean Beisner (@NJBeisner) November 17, 2023
Rapaport's recent comments, when compared to his previous profanity-laced anti-Trump tirades, highlight the American public's growing anger and frustration with the Biden administration.
Fox News reported on one of Rapaport's recent rants:
Anti-Trump actor and comedian Michael Rapaport's latest Twitter rant targeted the courtroom sketch artist who depicted former President Donald Trump's arraignment at a Washington, D.C., courthouse Thursday after he was indicted by the U.S. Department of Justice for obstructing the 2020 presidential election.

Rapaport, who often uses Twitter to post expletive-laden rants against the former president and other prominent conservative figures, lashed out at the sketch artist on Thursday for allegedly making Trump look better in the image.

Rapaport blasted the drawing for depicting the president as looking "60 pounds" lighter than in real life and for not depicting the unflattering details of the skin on Trump's neck.

The actor accused the sketch artist of having "Trump derangement syndrome" because of the supposedly idealized portrayal of the GOP front-runner.

In the video, Rapaport had zoomed in on a CNN segment featuring the courtroom drawings, with the illustrated Trump facing the judge at the arraignment as the focal point.

As he kept the camera focused on the drawing of Trump, Rapaport's voiceover blasted the artist, saying, "Clearly this court sketch was done by some deranged Republican with Trump derangement syndrome."

He then proceeded to blast the drawing for not capturing Trump's true appearance.
Here is a longer clip of Rapaport fuming over the current state of the country, via TheStormHasArrived:
Michael Rapaport says that he had conversations with President Trump and now he might vote for him.

"If things don't get straightened up in this fucking world asap… When I'm seeing motherfuckers in New York City… rip down American flags on Veterans Day. When the economy is… pic.twitter.com/cCTvUs2qW4

— TheStormHasArrived (@TheStormRedux) November 17, 2023