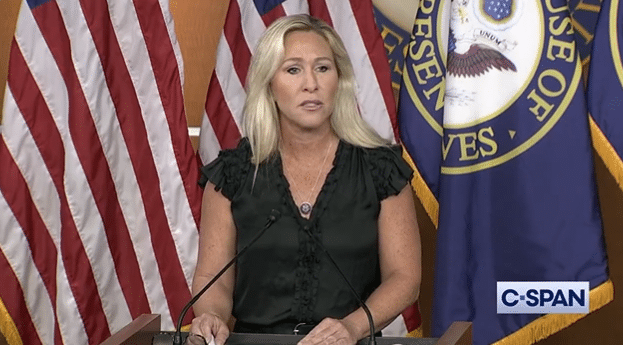 On Tuesday, Representative Marjorie Greene (R-GA) introduced articles of impeachment against U.S. Attorney for the District of Columbia and lead January 6 prosecutor, Matthew Graves, and FBI Director, Christopher Wray.
On Wednesday, Rep. Greene introduced articles of impeachment against Attorney General Merrick Garland and Secretary of Homeland Security Alejandro Mayorkas.
At a press conference Thursday morning, Rep. Greene announced articles of impeachment against Joe Biden for failing to secure our border and protect national security.
"It is with the highest amount of solemnity that I announce my intention to introduce articles of impeachment today on the head of this 'America-last Executive Branch' that has been working since January 20th, 2021, to systematically destroy this country: the President of the United States, Joseph Robinette Biden," Greene said at a press conference Thursday. 
Watch:
Biden's "Presidency" has been filled with chaos, failures and weakness. He has done more damage to this country than all of the worst presidents in U.S. history combined.
From historic failures internationally to crises at home, the Biden administration destroys everything it touches.