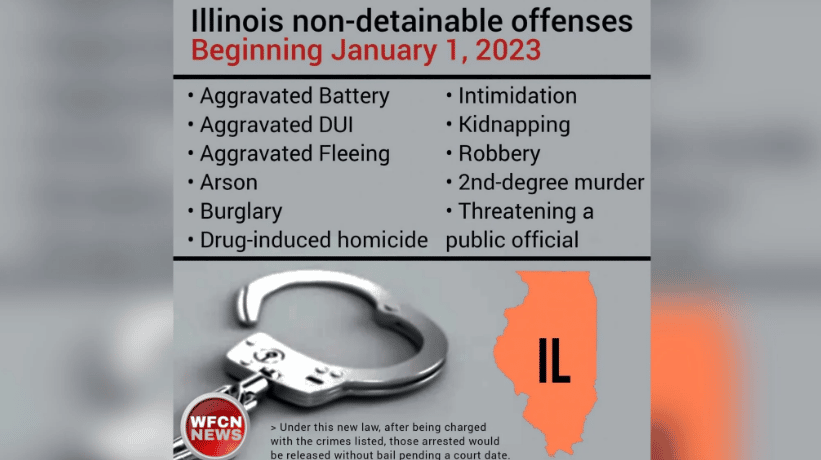 The elimination of cash bail in Illinois was set to go into effect on Sunday, January 1, 2023, but the state's highest court halted the reform on Saturday.
The Illinois Supreme Court paused portions of a controversial law known as the Safety, Accountability, Fairness and Equity (SAFE-T Act) that would eliminate cash bail for some crimes.
Democrat Gov. JB Pritzker signed HB 3653, THE SAFE-T ACT, into law in February 2022, saying "Transforming the pretrial detention system so low-income people aren't thrown behind bars while only the wealthy walk free, diverting low-level drug crimes into substance-treatment programs and reducing excessive stays in prison."
On Thursday, a Kankakee, Illinois County judge ruled that parts of the SAFE-T Act violate the Illinois' Constitution.
"Because, as the Illinois Supreme Court has determined, the administration of the justice system is an inherent power of the courts upon which the legislature may not infringe and the setting of bail falls within that administrative power, the appropriateness of bail rests with the authority of the court and may not be determined by legislative fiat," Judge Cunnington wrote in his decision.
Republican Mayor of Orland Park, Keith Pekau, said in a press conference recently that this new law would deny victims their constitutional rights.
"It abolishes cash bail for almost every offense," Pekau said. "This includes, but isn't limited to, kidnapping, armed robbery, second-degree murder, drug-induced homicide, aggravated DUI, threatening a public official, and aggravated fleeing and eluding."
"Offenders released on electronic monitoring have to be in violation for 48 hours before law enforcement can act. They can almost drive to Alaska before we can even look for them," he said.
"It denies victims their constitutional rights. And keep this in mind, businesses and homeowners will no longer be able to remove trespassers from your residence or your businesses. Someone could decide to live in your shed, and all we can do is give them a ticket. You have to decide what level of force is required to remove them and whether or not it's legal. This is a massive threat to the residents of Orland Park, Cook County in Illinois," Pekau warned.
On Saturday, the Illinois Supreme Court said online that it would be "staying," or temporarily suspending, the Pretrial Fairness Act, the law that includes the cashless-bail reform. If the justices do not issue a new order, the stay will continue in effect.
"Illinois Attorney General Kwame Raoul on Friday appealed to the Illinois Supreme Court to overturn Cunnington's decision, which would only have affected the counties that brought the suit," according to Chicago Sun-Times.
WTTW News reported:
Roughly half of the state's elected prosecutors had sued to stop the law from taking effect.

The Dec. 31 order from the Illinois Supreme Court said pending the appeal, it will prevent the bail modifications from taking effect "in order to maintain consistent pretrial procedures throughout Illinois."

DuPage County State's Attorney Robert Berlin and Kane County State's Attorney Jamie Mosser on Friday had asked the Supreme Court to take emergency action to issue an order suspending the SAFE-T Act "to not only clarify the implementation of the SAFE-T Act, but to also maintain an orderly administration of justice."

The Supreme Court did not put out a press release, but on Saturday evening tweeted that it "issued an order staying the PFA until further order of the Court. This is being done to maintain consistent pretrial procedures in Illinois until the Court can hear the appeal, which will be heard on an expedited basis" and pointed to an order on its website.

Advocates for doing away with cash bail said they're disappointed the "transformative law will not take effect as planned."

"We are confident that the Supreme Court will swiftly reverse the lower court finding and confirm the constitutionality of the Pretrial Fairness Act. In the meantime, we are grateful that the court is providing uniform guidance to courts across the state," Cook County Public Defender Sharone Mitchell's office said. "Money bond is a deplorable practice, and it is high time that Illinois abolish a system that punishes people – most of them Black and Brown – for being poor. We decry the frivolous lawsuit that was brought against the Pretrial Fairness Act almost two years after it was signed into law."

But in a joint statement, Berlin and Mosser said the abolishment of cash bail had gone forward in some counties but not others and with litigation pending, "the administration of justice in Illinois would have been uneven, thus harming all the citizens of the State."

It would have been particularly problematic in DuPage and Kankakee counties because some municipalities cross county borders, "some of which were bound by the pending litigation and others that were not."