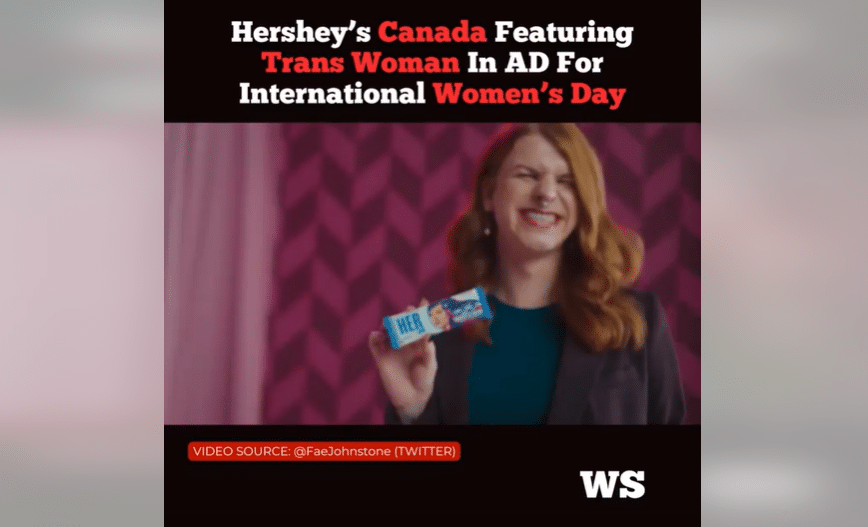 Hershey is facing furious backlash for putting a transgender in a Women's Day commercial.
In the biggest slap in the face to all actual women, Hershey used a biological male, Fae Johnstone, in a leading role to promote their new limited edition Candy Bar called "Her".
In the commercial Johnstone stated, "My name is Fae Johnstone, I'm the executive director of Wisdom to Action. We can create a world where everyone is able to live in public space as their honest and authentic selves."
Watch the commercial here:
Fox News reported:
Social media users slammed candy company Hershey's after it debuted a pro-transgender ad for its chocolate bars in honor of International Women's Day.

Disturbed Twitter users hammered the new ad for presenting a transgender woman as Hershey's representation of the pro-female celebration.

The ad debuted Wednesday as part of Hershey's Canada's "Her for She" campaign in honor of International Women's Day on March 8. The short spot featured trans woman Fae Johnstone – who it noted is a "2SLGBTQUIA+ Advocate" – promoting Hershey's new female-themed wrapper.
Not only is it a slap in the face to women, but normalizing transgenderism is also encouraging mental illness. These people need therapy, and possibly medication, not a platform.
Using a man to represent women on International Women's Day is bad enough but they chose this particular man who hates women.
Why would Hershey do that? The logical conclusion is that Hershey also hates women. Why then, should women EVER spend another cent on their low-quality chocolate?