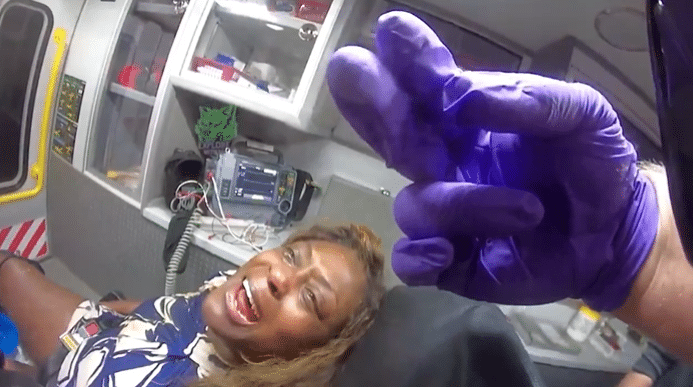 A former GA county commissioner [D] Felicia Franklin who was found passed out drunk in the street lying in her own urine is planning to sue Clayton County for firing her.
Felicia Franklin intends to sue Clayton County for wrongful termination after being dismissed from her role as Board of Commissioners vice chair. The decision came unanimously from county officials following an incident in September where she was recorded on police-worn body cams screaming at medics who were trying to help her after she was found passed out outside a sports bar.
Watch (Warning: strong language):
JUST IN: GA county commissioner [D] Felicia Franklin is found PASSED OUT DRUNK in the street SITTING IN URINE according to police bodycam footage.

Franklin now claims she was drugged despite toxicology report that DOES NOT support her claim..pic.twitter.com/NBOBThxPid

— Chuck Callesto (@ChuckCallesto) November 13, 2023
Franklin is now claiming to be the victim, saying she was drugged with a date-rape drug however her toxicology report does not support this claim.
From The New York Post:
Franklin — who is also running for the county chairman position — claims in the lawsuit that the "traumatic and unfortunate incident" outside the 404 Sports Bar and Grill in Morrow came after she was "drugged with a 'date rape' drug."

The suit claims her "evening took a turn for the worse" and she was found "crying and clearly in a vulnerable position" when police arrived.

But Sgt. Scott Stewart of the Morrow Police Department said, "We have found no evidence to support that she was in fact drugged with GHB."

He said officers have reviewed security footage showing Franklin walking alone into the sports bar and ordering several drinks.

"She had probably three and a half, four drinks, then a swig of beer," Stewart told Fox 5.

Police claim the footage shows Franklin had three "That's a home run" drinks, which contain 40-proof Hennessy and Grand Marnier, followed by a glass of wine and a swig of someone else's beer.

By the time police arrived, body camera footage showed her lying on the ground outside the bar.

Officers could be seen lifting her up and onto a gurney as she remained unconscious, before she started screaming, crying and cursing out the first responders.

At one point, Franklin could be seen shouting, "I don't know what they gave me."

She could also be seen hitting an EMT in an ambulance and repeatedly yelling at him to "get the f– out of my face."

When an officer told her, "Ma'am, you're about to go to jail," Franklin replied, "I don't give a f—, get him out of my face."

She also cried "Don't leave me, don't leave me" as she was transported to a local hospital, where she was transferred to a bed — and became even more agitated, calling out for her mother.

In the aftermath, another video of Franklin being questioned by the police shows cops confronting her with receipts proving she had more drinks than she initially claimed.

"I didn't have five drinks … I had five drinks? I don't remember having five drinks," she said in response, claiming the other drinks listed were for other people.

Investigators said they could not find any evidence of anyone tampering with her drinks, and claimed a toxicology report found cannabis in her system.

"She refused a blood test, but she did have a urinalysis, and it showed positive for cannabinoids, also known as cannabis," Stewart said.