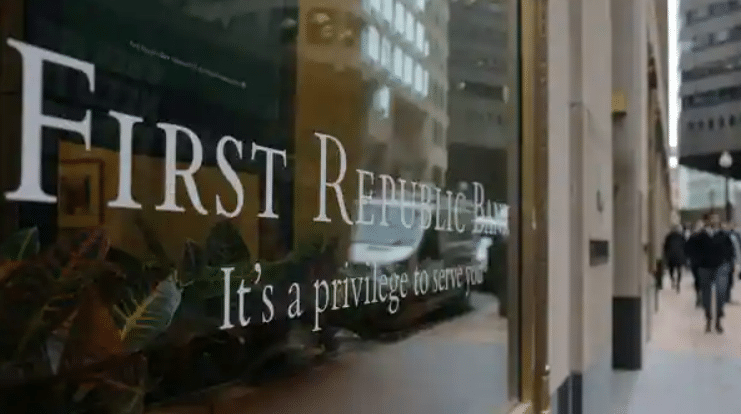 California-based First Republic Bank was one out of six banks placed on downgrade watch by Moody's Investors Service on Tuesday.
Although it had a 50% rebound, First Republic dropped 66% in pre-market on Monday.
Customers were lined up at a First Republic Bank in Los Angeles on Saturday to withdraw their money after Silicon Valley Bank failed.
Watch:
The other five banks on Moody's downgrade list included: Zions (ZION), Western Alliance (WAL), Comerica (CMA), UMB Financial (UMBF), and Intrust Financial.
On Wednesday, First Republic Bank was downgraded to "junk" by the S&P.
S&P downgraded First Republic Bank to "junk" due to elevated risk of deposit outflows.
Market Watch reported:
First Republic Bank absorbed debt rating downgrades from three major bond research firms Wednesday as concerns mounted it will suffer further deposit flight that will hurt already modest profitability.

S&P Global Ratings downgraded its issuer credit rating on First Republic Bank by four notches to BB-plus from A-minus on Wednesday, placing it in speculative grade, or 'junk,' status.

The move came just hours after S&P put the bank on review for a downgrade late Tuesday.

First Republic stock fell 18% to $32.38, placing it back near the 11-year-low of $31.21 hit during the big bank selloff on Monday.

First Republic's deposit base is more concentrated than most large U.S. regional banks, said the agency, and that presents heightened funding risks in the current environment. As of Dec. 31, the bank had about $176.4 billion in deposits, 63% of which were commercial.

"We believe the portion above the Federal Deposit Insurance Corp. insurance limit of $250,000–about 68% of the total, or $119.5 billion–is most susceptible to withdrawal, despite the bank's historically excellent depositor loyalty," said the agency. "According to the bank, its number of deposit accounts is about one-fifth that of the average U.S. bank with $100 billion to $250 billion in assets, which highlights its higher-than-average account sizes."
First Republic Bank's stocks took a massive hit on Wednesday.
From CNBC:
First Republic Bank – The regional bank stock tumbled 21.4%, giving back some of Tuesday's gains as turmoil at Credit Suisse rattled the broader sector and S&P Global Ratings downgraded its debt rating to BB+ from A-.