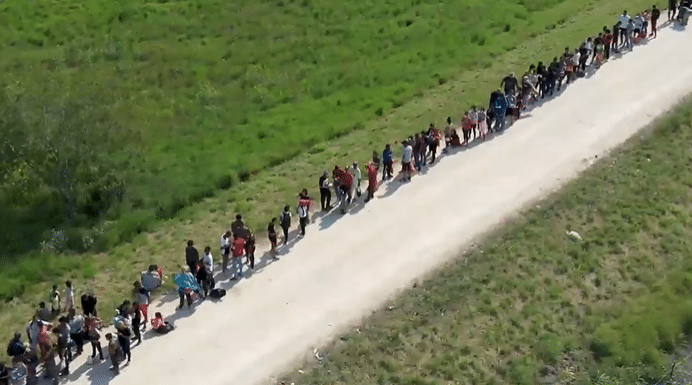 Aerial drone footage captured by Fox News shows a massive line of illegal immigrants waiting in Brownsville, Texas after crossing the border days before Title 42 is expected to end.
Biden's border crisis has become so serious that Texas Governor Greg Abbott announced Monday that Texas will deploy the new Tactical Border Force, made up of elite National Guard members, to intercept, repel and deny the illegals access into the United States.
According to Fox News correspondent Bill Melugin, most of the immigrants who recently crossed the border illegally appeared to be single adults.
Another video shared by Melugin showed a nonstop flow of border crossers on Monday.
On Tuesday, the Biden admin announced it is sending 1,500 active-duty troops to the border, not to stop the illegals from crossing, but "to supplement" Border Patrol agents as they process the hundreds of thousands of illegal immigrants who are ready to invade the U.S.
Days before Title 42 has even ended, the leader of one of the largest groups helping migrants on the southern border, now says the border is in crisis.
Sister Norma Pimentel with Catholic Charities of the Rio Grande Valley said, "There wasn't a crisis until now."
"Title 42 is causing a crisis because it's sending the wrong message letting people think that the border is open and everybody can come," she said. "Because of that, we're starting to see a crisis."
Watch: