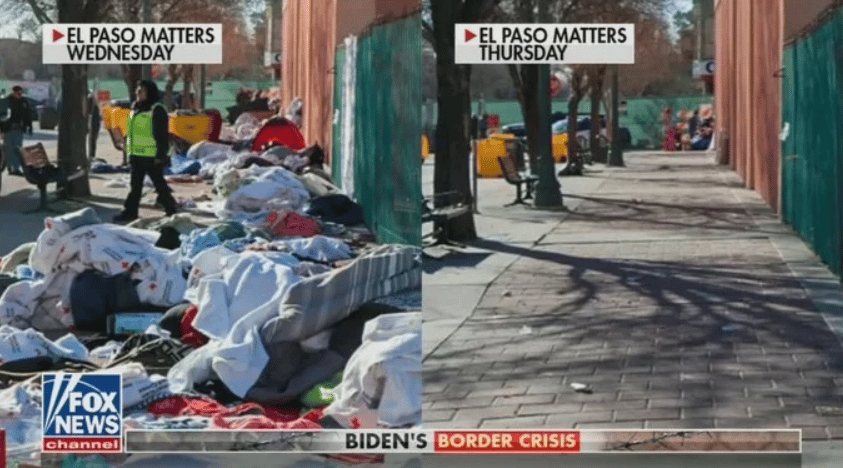 On Sunday, Joe Biden will be visiting the US-Mexico border for the first time in his life at the age of 80.
More than 5 million illegal aliens have crossed over the border since Joe Biden was installed in January 2021.
It has gotten so bad that illegal aliens are climbing out of sewers in El Paso, Texas.
Naturally, they decided to finally clean up the migrant encampments for Biden's visit.
Now Joe can stand in the center of town in front of cameras and pretend there's no problem.
The Washington Free Beacon reports:
Report: Democrat-Run Border City Clears Out Migrant Encampments Ahead of Biden Visit

Democrat-run El Paso, Texas, is clearing out large migrant encampments from downtown streets ahead of a scheduled visit on Sunday by President Joe Biden.

Since last week, police have moved hundreds of migrants to less visible areas of the city, as carjackings, stolen property, and drug distribution spiked with the arrival of thousands of illegal immigrants, the Washington Examiner reported. Law enforcement agencies said businesses have struggled with crime as migrants, primarily from Venezuela, have camped out on city streets.

Biden is visiting the border city ahead of meetings next week in Mexico City with Canadian and Mexican leaders. His visit comes as his administration on Thursday unveiled a policy that permits 30,000 people per month from Venezuela, Cuba, Haiti, and Nicaragua to obtain temporary work in the United States. The new program will allow migrants to travel directly to the United States, bypassing an asylum application at the southern border, after applying on a mobile app.
Here's a reminder of what El Paso has looked like in recent months.
Just a few weeks ago Fox News reporter Bill Melugin released video of the extreme overcrowding at the Border Patrol Central Processing Center in El Paso, Texas.
4,600 migrants were in a facility that can only house 1,040.
Watch:
The streets of El Paso have been taken over by migrant tents, but the tents were cleared out just in time for Joe Biden so when he arrives the streets look clean for the cameras.
Texas Governor Greg Abbott called out El Paso for predictably clearing out the migrant camps and blasted Joe Biden for traveling to El Paso for a "photo op."