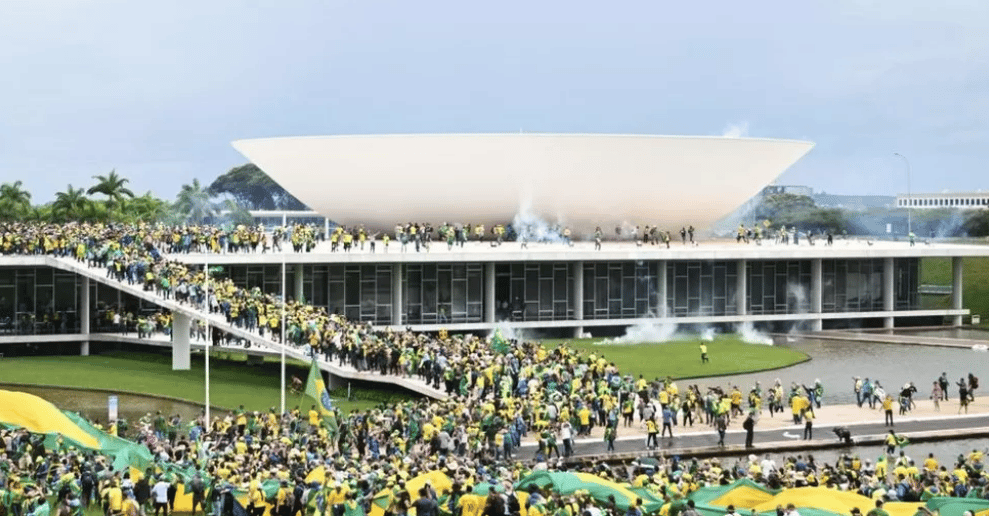 This is a breaking news story and will be updated as new details emerge.
Supporters of Brazilian President Jair Bolsonaro have stormed Congress and police have used tear gas in an attempt to repel them.
The dramatic scenes come a week after left-wing Luiz Inácio Lula da Silva's inauguration.
Hundreds of people appear to have overcome security and stormed the National Congress building. Bolsonaro backers have refused to accept the fraudulent election results.
Protesters – who smashed windows of the building – had been camping nearby.
Watch:
The protesters attempted to enter the Planalto Palace, which serves as the seat of government, LUSA reported. Videos on social media appeared to show them inside the palace.
Footage shared on social media showed hundreds of people pouring into the building. The protesters were met with police tear gas. 
A Brasília-based reporter shared a video on Twitter purportedly showing the protesters storm the building.
Caption according to Google Translate: "URGENT: Invaders break window panes of the headgear of Congress and invade the House of Representatives. Extremists are already in the Green Hall and in the annexes of the building. There was also an invasion of the Planalto Palace. President Lula is not on the scene."
The president of the Senate, Rodrigo Pacheco, said police were focused on containing the situation.
In a post on Twitter, he said he "vehemently repudiates" the "anti-democratic acts" and called for a judicial response.