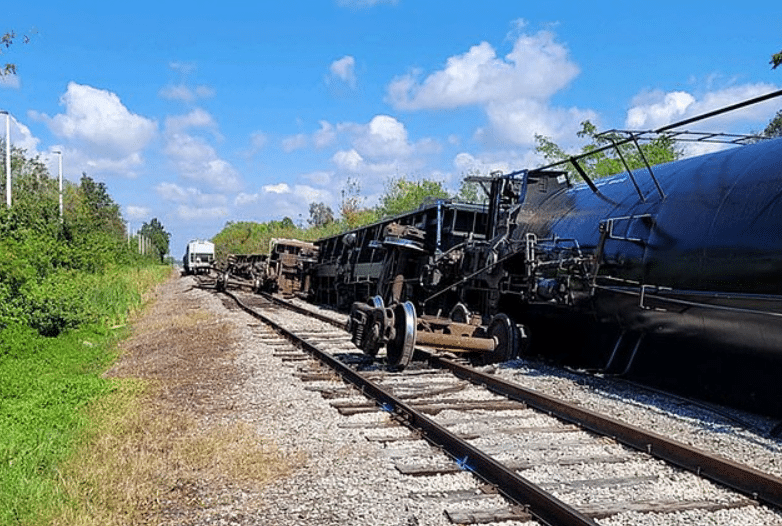 Another train has derailed in a red state… this time in Florida.
A train carrying more than 30,000 gallons of propane derailed in Manatee County, Florida Tuesday.
Emergency crews responded to the scene after several cars fell off the tracks.
Southern Manatee Fire Rescue Chief Robert Bounds told News Channel 8 that "six Seminole Gulf Railway cars fell off the tracks."
One of the derailed cars was carrying propane, while the other five cars were hauling sheet rock.
News Channel 8 reported:
Bounds told WFLA.com the tanker car is not leaking and is safe. There were no injuries reported.

In order to clear the tracks, authorities said they must first siphon approximately 30,000 gallons of propane out of the tanker car. Crews are using infrared cameras to monitor the propane tank.

"We are proud of our first responders," said Manatee County Board of County Commissioners Chair Kevin Van Ostenbridge. "Their quick action has helped maintain the safety and security of our citizens."
More from FOX 13:
As of noon, thermal imaging shows no leaks, but hazmat crews are still monitoring.

"We have drones. We run the hazmat team for the county of Manatee and we were in the air with our drone which has thermal capabilities," explained Chief Robert Bounds. "We were able to look at the tank and ascertain the levels of the tank from the outside, it'll show up different colors if anything is actually leaking. There are no leaks. There are no actual physical damage to the tank other than the rollover, but there is no significant damage to it."

No evacuation orders have been issued and there are no road closures at this time. However, they may evacuate the area when it's time to offload the product if there is a potential danger. Heavy equipment will be brought in to upright the cars, including the propane tanker.

"With the aid of our drone technology, we are able to fly downstream and look on the other side of the tracks and there is a homeless camp over there," the chief stated. "We aren't sure how many people. We couldn't visualize that from the air. We did send MSO and some other teams down there to address the people out there and to address the potential danger, and we will monitor them as well in the event we have to evacuate."
Photos from the scene provided by Southern Manatee Fire Rescue via FOX 13:
Watch: