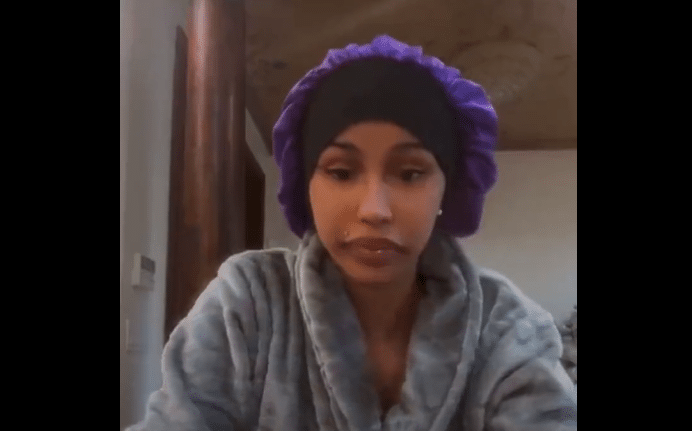 Rapper-songwriter, and Joe Biden supporter, Cardi B recently took to social media to express her strong opinions on the current state of the United States. Specifically, she addressed the budget cuts in New York City and criticized the Biden administration.
In a recent online tirade, Cardi B, whose real name is Belcalis Marlenis Almanzar, voiced frustration and concern regarding substantial budget cuts in New York that impact schools, public libraries, sanitation and the police department.
"I'm angry a** b*tch right now. I'm an angry b*tch. Y'all need to get in here because I'm about to go off right now," Cardi B said during her Instagram live urging her followers to watch her video.
"I need you to spread this f**king video. I need you to spread this video. And if something happens to me, it's because I'm speaking truth. So God forbid something happens to me or my family or some sh*t because n*gg*s is after me because I'm speaking the truth."
She highlighted the potential consequences of these cuts, citing reduced sanitation that could lead to increased rat infestations, attributing it to the failed policies of Democrats Eric Adams and Joe Biden.
"In New York, there is a $120 million budget cut that's going to affect schools, public libraries, and the police department. And a $5 million budget cut in sanitation. B*tch, we are gonna be drowning in f**king rats.
The rapper, known for her leftist views, expressed disappointment with political leadership, including her previous support for Joe Biden.
"I'm not endorsing any presidential candidates anymore. How can there be a hundred million dollar budget cut for essential services like schools, libraries, police safety, and sanitation in New York City?"
In a straightforward critique, leftist Cardi B openly criticized Joe Biden's warmongering. She slammed the administration's spending choices, highlighting the contrast between domestic budget cuts due to the influx of illegal immigrants and the funding allocated for military operations in Israel and Ukraine.
"Joe Biden's talking about like, 'Yeah, we could fund two wars. We could fund two wars, motherf**kers.' Talking about we don't got it, but we got it. Like, we're the greatest nation. No, the f**k we're not. We're going through some sh*t right now. Like, say it! We really are f**ked right now."
"New York is dirty, and it is dirty. And we're going to get even dirtier with the f**king budget cut. And, yeah, we talking about we could fund two wars. That's like a n*gg* trying to front like, yeah, I got the money to support two bitches, but you really don't."
"No, we cannot fund these f*cking wars. We can't keep it a beam. We can't. Like, y'all doing budget cuts on the biggest city in the United States.
"This sh*t is getting out of hand. They don't want to say the word, but we're going through a recession right now. We really, really f**king are. And Major Eric said it there is a budget cut going on in New York. And little by little, it's going to go in your states. Okay? This is f**king crazy."
Watch (WARNING: Strong language):
I got it 7 years ago.

Cardi B is getting it now.

Michael Rapaport is getting it now.

You get it when you get it.

Get it now.
pic.twitter.com/Fsms3kNUEP

— Brandon Straka (@BrandonStraka) November 20, 2023
Leftist celebrities are beginning to change their tune on Joe Biden.
Breaking Digest previously reported that infamous Trump-hating actor and "comedian" Michael Rapaport recently declared that he may vote for Trump.
Watch (WARNING: Strong language):
P!g D!ck 2024? pic.twitter.com/9yYmbqoHtn

— MichaelRapaport (@MichaelRapaport) November 17, 2023
Last year, Cardi B caught the attention of social media when she tweeted about a incoming economic recession, asking when the experts were going to announce it was already in motion.
"When y'all think they going to announce that we going into a recession?" she asked.
When y'all think they going to announce that we going into a recession?

— Cardi B (@iamcardib) June 5, 2022
Back in 2020, Cardi B urged black people to vote for Joe Biden.