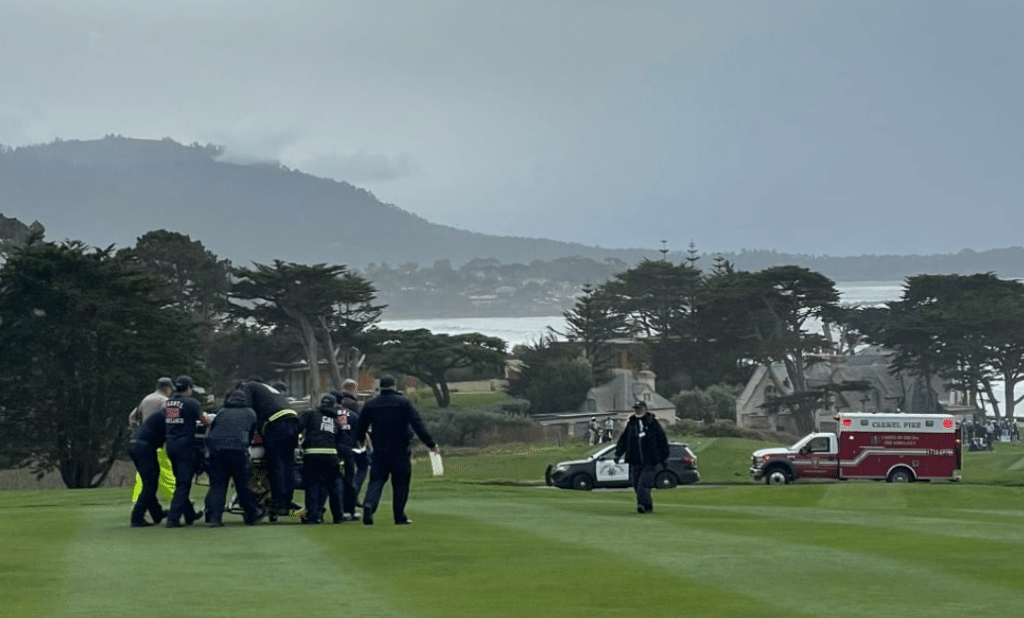 The caddie collapsed during the second round of the AT&T Pebble Beach Pro-Am on Friday and received CPR on the course before being taken to a nearby hospital by ambulance.
According to ESPN's Paolo Uggetti, the play was interrupted for nearly one hour after Geoff Couch's caddie, who remains unidentified, suddenly collapsed on the 11th-hole fairway.
PGA Tour chief referee Gary Young said a spectator administered CPR until medical personnel arrived. He was rushed in an ambulance to Montage Health in Monterey, California.
While the PGA Tour did not release the name of the caddie, the Tour did release a statement:
During the second round of the AT&T Pebble Beach Pro-Am, there was a medical emergency at No. 11 at Pebble Beach involving an amateur's caddie. The caddie has been rushed to Montage Health for evaluation.

At the direction of the PGA TOUR Rules Committee, the players in that group – Max McGreevy and Beau Hossler – paused play during the medical emergency and will be allowed to warm up and resume their round shortly.

We will provide additional details when available.
Geoff Couch and Lukas Nelson are the amateurs playing with Hossler and McGreevy.
American professional golfer Beau Hossler said, "I can't say that I'm real comfortable at the moment to resume play."
"I turn around and he's on the ground and I ran over to him and turned him over," said country singer Lukas Nelson, the other amateur in the group.
"And he didn't have a lot of color in him. Luckily, there was a police officer on the sideline. He knew CPR so he came in and effectively saved his life."
Nelson Paolo Uggetti that the caddie is now "doing better."