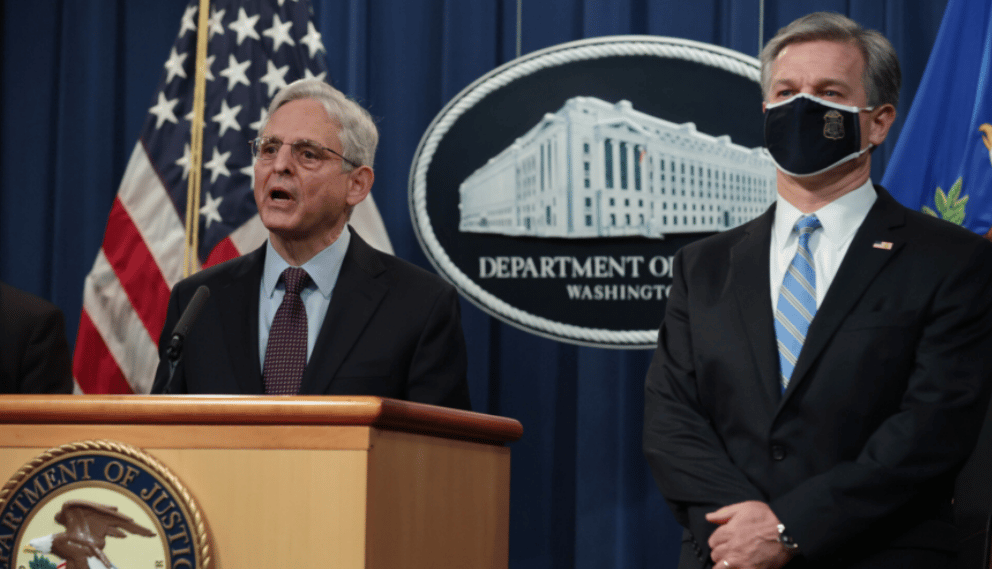 House Judiciary Committee Chairman, Rep. Jim Jordan (R-OH) issued subpoenas to FBI Director Christopher Wray and Attorney General Merrick Garland to produce documents on FBI investigations of concerned parents who participated in school board meetings.
The subpoena instructs Garland to provide numerous items that chairman Rep. Jim Jordan has repeatedly requested from the DOJ since the issue first surfaced surrounding school boards.
In October 2021, while Jordan was a ranking member of the Committee, he contacted Garland about a directive he had issued to the FBI concerning a "disturbing spike in harassment, intimidation, and threats of violence" against school administrators.
It also seeks to compel documents and communications relating to the establishment of a related Department of Justice task force.
"Since October 2021, Judiciary Committee Republicans have sent over one hundred letters to Biden Administration officials requesting answers about how the Administration used federal counterterrorism resources against American parents," the House Judiciary Committee said in a later news release.
Garland acknowledged during a committee hearing that he had sent the FBI directive following the National School Boards Association (NSBA) sending a letter to the White House. The NSBA later retracted their request to have the White House investigate parents, accusing them of being possible "domestic terrorists" for being upset over school officials promoting left-wing or pro-LGBT viewpoints to students.
Jordan accused the DOJ of using the NSBA's letter as a "pretext for the use of federal law enforcement," intimidating parents and violating the right of parents to speak out on behalf of their children. Jordan said this could "chill the First Amendment rights" of parents.`
"You, the Honorable Merrick B. Garland, Attorney General, are required to produce the following items in your possession, custody, or control, from January 20, 2021, to present, in unredacted form."
"All documents and communications between Mary Wall, Senior Policy Advisor to the President, and any Department of Justice employee(s) referring or relating to the National School Boards Association's (NSBA) letter dated September 29, 2021; the Attorney General's memorandum dated October 4, 2021; or alleged threats or violence at school board meetings."
Jordan also subpoenaed FBI Director Christopher Wray on Friday. Wray is also obligated to turn over documents and any communications related to the FBI's "misuse of federal criminal and counterterrorism resources," which sought to target parents who spoke out to criticize school boards. Wray has been instructed to produce all documents that "direct the FBI to partner with local law enforcement and U.S. attorneys to identify parental threats at school board meetings against faculty and "prosecute them when appropriate."
More on the NSBA letter from The Epoch Times:
The controversial NSBA letter, later removed from its website, equivocated incensed parents at school board meetings with "domestic terrorism," drawing outrage from parents groups and Republicans. The NSBA later apologized for sending out the letter and launched a "formal review" into the matter.

But just days after the NSBA letter was sent, Garland issued a memo (pdf) and news release calling for greater partnership to address alleged threats against school board officials.

"Threats against public servants are not only illegal, they run counter to our nation's core values," Garland said in a news release at the time. "Those who dedicate their time and energy to ensuring that our children receive a proper education in a safe environment deserve to be able to do their work without fear for their safety."

During an October 2021 Senate Judiciary Committee hearing, Garland told lawmakers that real threats of violence against school officials "are not protected by the First Amendment." He also stipulated that officials are "not investigating peaceful protests or parent involvement in school board meetings."

About a year ago, Jordan and other Republicans said that whistleblowers came to them and alleged the FBI carried out dozens of investigations into American parents who complained about schools' COVID-19 mandates and labeled them with a "threat tag."

The alleged FBI investigations targeted parents who were "upset about mask mandates and state elected officials who publicly voiced opposition to vaccine mandates," the GOP lawmakers said at the time, noting that it was the EDUOFFICIALS tag that was used to label those individuals.

"In sworn testimony before this Committee, you denied that the Department of Justice or its components were using counterterrorism statutes and resources to target parents at school board meetings," the lawmakers wrote. "We now have evidence that [is] contrary to your testimony."

The Epoch Times has DOJ for com""ment on the subpoenas, which were first reported by Fox News on Friday.