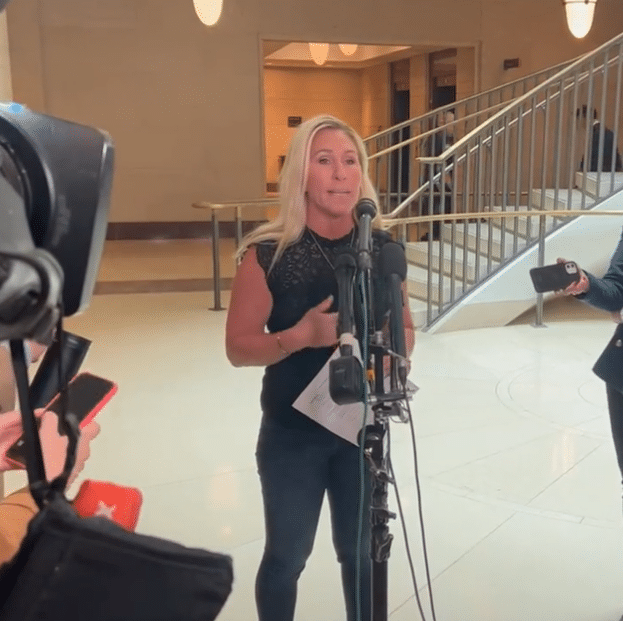 After weeks of stonewalling, the FBI is now willing finally cooperate and allow all members of the House Oversight Committee to review the subpoenaed document that alleges Joe Biden was involved in a criminal bribery scheme with a foreign national.
On Wednesday night, House Oversight Committee Chairman James Comer forced the FBI to cooperate and allow ALL members of the committee to review the Biden bribery document and receive a briefing.
As a result, Chairman Comer canceled the Thursday morning vote to hold FBI Director Chris Wray in contempt.
On Thursday, Republican Representative Marjorie Taylor Greene emerged from the SCIF (Sensitive Compartmented Information Facility) and shared highly significant details regarding the Biden bribery document.
"Reading this form today shows the pure distinction. This information, this source that came forward, it's a paid informant by the FBI," said MTG. She made it clear that the information in question was unrelated to the claims brought forward by Rudy Giuliani in 2020 and "extremely credible."
"Basically, what's happening there is back in 2015-2016, Burisma was looking to buy a U.S.-based oil and gas company, and this came from being advised by Hunter Biden and his partners," MTG explained.
Burisma Holdings, a prominent Ukrainian company, has gained recognition worldwide due to the appointment of Hunter Biden to its board of directors in 2014. The company stands as one of the leading private natural gas producers in Ukraine.
She also detailed claims of explicit bribes, alleging Burisma paid $5 million to two members of the Biden family. According to Greene, these payments were intended to secure the removal of Viktor Shokin, the prosecutor who was investigating Burisma. She went on to suggest that bribery is a prevalent practice in Ukraine and Russia, often factored into budgeting for business transactions.
In 2016, Joe Biden pressured the Ukrainian government to fire Shokin, who was investigating Burisma's leadership for corruption.
In 2018, Joe Biden was caught on video bragging about withholding $1 billion from Ukraine until they fired Shokin.
WATCH:
"Donor Burisma said that Hunter was stupid and that his other business partner was smart. He also said that he paid five million to one Biden, and he paid five million to another Biden," she stated.
Greene continued summarizing the alleged illegal activities, explaining that hiring Hunter Biden to solve Burisma's legal problems was "definitely illegal for a vice president of the United States and their family members." She added that the owner of Burisma was not pleased when Trump won the presidency, as he had invested a lot of money into the Bidens to "make his problems go away."
Greene vowed to continue with the investigation and called on the FBI to continue cooperating. She expressed her disappointment with the FBI's decision not to provide the American public access to the unclassified information she had reviewed, saying, "I think the American people deserve to see it and know every single bit of it…"
"We're going to continue to look into every single thing that we can uncover. We need the FBI to keep cooperating with us. That's extremely important. And I have very high expectations of Christopher Wray that he'll do the right thing and continue showing us the information that we're asking for," said Greene.