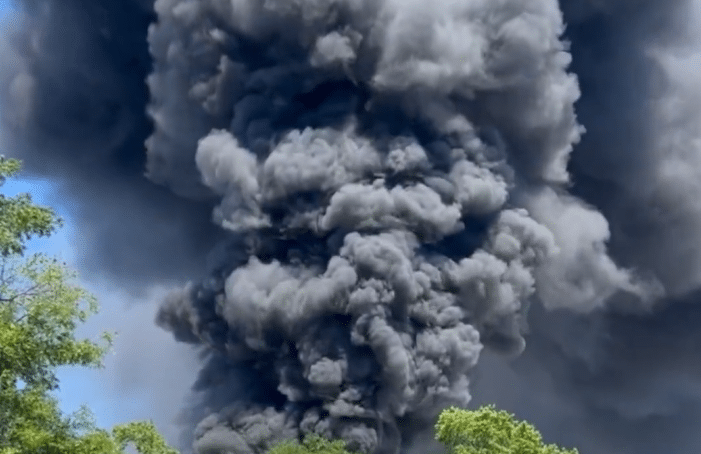 A massive fire erupted at the Pinova Chemical Plant in Brunswick, Georgia on Saturday.
Emergency officials issued a shelter-in-place order for a half-mile radius of the plant, which manufactures terpene resins, adhesives, glues as well as food products.
The fire was first reported around 7 a.m. local time and was contained shortly before 10 a.m. local time.
County officials updated later Saturday afternoon that the fire had reignited, prompting the shelter-in-place order, due to wind conditions.
There were no reported injuries.
Officials are still trying to determine the cause of the blaze.
First Coast News reported:
A massive cloud of dark smoke clouded the sky over the Pinova plant, which manufactures plastic resin. No one was hurt, but emergency officials are investigating what caused the fire. They say workers were nearby when the fire started at about 7 a.m.

"They heard a pop, came out and they saw there was a fire in their area," said Glynn County Fire and Rescue Chief Vincent DiCristofalo.

Pinova Senior Director of Operations Ron Kurtz says the fire was in the plant's terpene resins unit.

"It was terpene resins," Kurtz said when asked about the smoke plume. "This is material you use every day, a lot of adhesives, glues, that's where this material's going. It's also used in some food products."

The emergency management director for the county says one of their initial goals was to identify what chemicals could be involved in the plume of smoke.

"We immediately contacted National Weather Service to get a plume model to see where the the cloud was going," said Andrew Leanza, director of Glynn County Emergency Management and Homeland Security. "So we identified it, our initial isolation zones, we weren't concerned when we looked at the ERG once we identified the chemicals so it was in our favor today. But that was something that we've been monitoring and we'll continue to monitor."
Saturday's fire is reportedly the second fire in 5 months to erupt at the plant.
News4JAX added:
Brunswick and Glynn counties fire crews are bringing in additional crews from Wayne and Camden counties to assist in fighting the blaze.

The Glynn County Board of Commissioners said this morning that the fire was contained and there were no injuries or threats to the public.

…

This second fire in five months to erupt at a Brunswick plant. In November, an industrial fire sparked multiple explosions at a chemical plant.