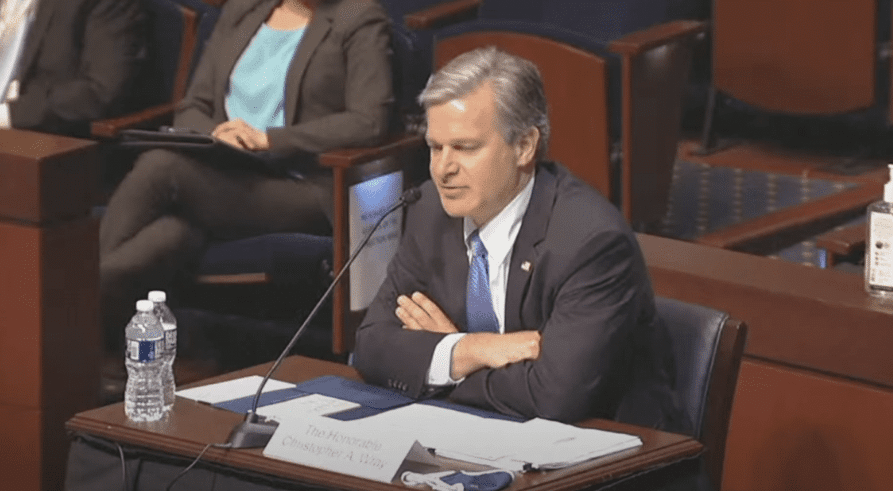 On Friday, FBI Director Chris Wray caved to Oversight Committee Chairman Rep. James Comer.
Wray has agreed to hand over the subpoenaed FBI form FD-1023. which implicates Joe Biden in a criminal bribery scheme with a foreign national.
The document, which describes, in detail, a $5 million criminal bribery involving Joe Biden and a foreign national, is expected to be reviewed by lawmakers from both parties on Monday.
This comes after Rep. Comer threatened to hold the FBI in contempt of Congress if he did not turn over the document (and related documents).
Breaking Digest previously reported that Wray confirmed to them that the document was real and offered to let Rep. Comer and Sen. Grassley review it but again has refused to turn over the document.
Watch:
Just The News reports:
But a deal was struck late Thursday for the FBI to bring the document to the Capitol, officials said.

"Chairman Comer will receive a briefing from the FBI and review the document on Monday," his committee told Just the News in a statement.

"Chairman Comer has been clear that anything short of producing the FD-1023 form to the House Oversight Committee is not compliance with his subpoena.

This unclassified record contains pages of details that need to be investigated further by the House Oversight Committee."
The Oversight and Accountability Committe cornered the FBI.
Turning over the document will expose the FBI for covering up the Biden Crime Family's crimes.
But refusing to turn over the document exposed the cover-up of the cover-up. Either way Americans can clearly see that the FBI is guilty.