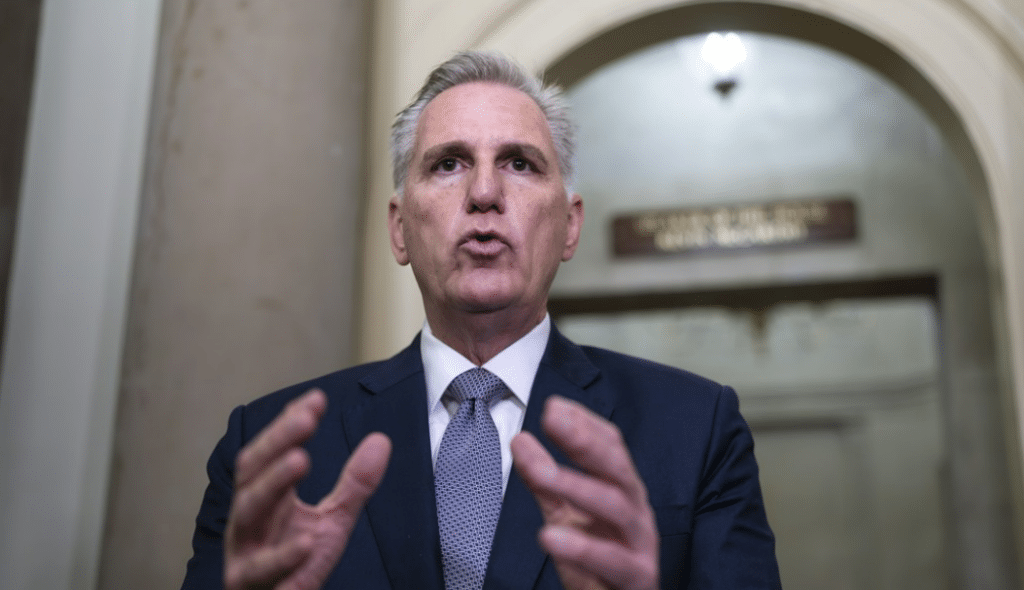 In a last-minute effort to prevent a government shutdown, House Republicans encountered a significant setback on Friday as their short-term spending bill failed to get enough support. With less than two days remaining to secure funding for the federal government, the final vote exposed deep divisions within the GOP regarding Speaker Kevin McCarthy's proposal, with more than 20 Republicans opposing the measure.
Speaker McCarthy's bill would have funded the government until October 31.
House defeats McCarthy's bill to avoid a shutdown, 232-198

— Chad Pergram (@ChadPergram) September 29, 2023
CNBC reported:
House GOP leaders on Friday failed to pass a partisan, short-term spending bill with fewer than two days left to fund the federal government and avoid a shutdown. The final vote was 198 to 232, with more than 20 Republicans crossing the aisle to oppose their own party's bill.

Speaker Kevin McCarthy pitched the bill as a way for his fellow Republicans to buy time to pass a slate of individual agency spending bills.

The House Republicans who joined Democrats to vote against it included several of McCarthy's most outspoken antagonists, like Florida Rep. Matt Gaetz and Arizona Reps. Andy Biggs and Eli Crane.

"We actually need a stop-gap measure to allow the House to continue to finish its work, to make sure our military gets paid, to make sure our border agents get paid as we finish the job that we're supposed to do," McCarthy told reporters.

The White House blasted the House GOP caucus for engaging in brinksmanship, and dismissed McCarthy's suggestion that he would not take a paycheck during a shutdown.

"That is theater. The guy who picks up the trash in my office won't get a paycheck. That's real," said Shalanda Young, director of the White House Office of Management and Budget. "We're doing everything we can to plead, beg, shame House Republicans to do the right thing," she added.

The GOP bill would have funded the government through Oct. 31. But it had effectively no chance of passing the Senate, which is controlled by Democrats, or of being signed by President Joe Biden.
Hardline Republican lawmakers opposed McCarthy's bill, citing concerns that it is too weak on spending cuts and border security.
Rep. Matt Gaetz was among the prominent Republicans who voted against Speaker McCarthy's short-term bill.
"Last night, House Republicans agreed that we wouldn't fund DHS unless e-verify was passed because we'd have to take a vote on HR 2," Gaetz wrote on Friday morning. "Today, 11 hours later, the Continuing Resolution being considered strips mandatory e-verify and worsens our position on the border."
"I'm voting NO!"
Last night, House Republicans agreed that we wouldn't fund DHS unless e-verify was passed because we'd have to take a vote on HR 2.

Today, 11 hours later, the Continuing Resolution being considered strips mandatory e-verify and worsens our position on the border.

I'm voting… pic.twitter.com/FjrQnYmcLI

— Rep. Matt Gaetz (@RepMattGaetz) September 29, 2023