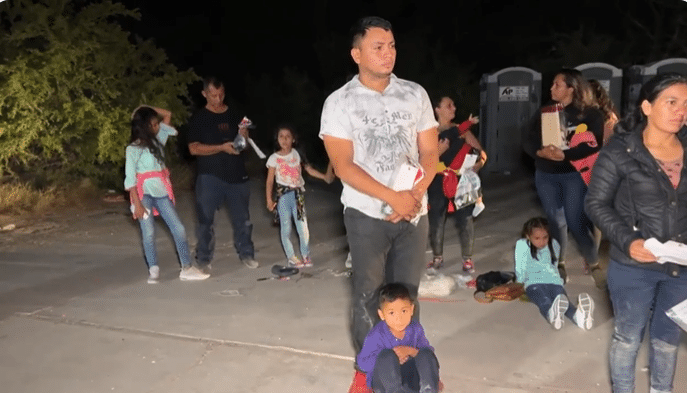 In a startling revelation, Todd Bensman, the Senior National Security Fellow based in Texas at the Fellow-Center for Immigration Studies, has disclosed that the Biden administration is allocating an astonishing $2,200 "per month" to illegal immigrant families (comprising one parent and one child) under the pretense of asylum, intended for covering living expenses. This revelation comes at a time when the average American relying on Social Security receives only $1,400 per month.
Bensman has noted that it appears these illegal immigrants may no longer be subjected to asylum interviews and are instead being released into the United States.
According to an interview with an anonymous Border Patrol Agent, it appears that some illegal immigrants are taking advantage of the system by "double dipping." In this scenario, one parent and one child receive $2,200 per month, while a separate parent and child, often from the same family, also receive another $2,200 per month. This results in a staggering monthly total of $4,400 for certain immigrant families, surpassing the earnings of many hard working Americans.
But it's not just the checks. According to the Border Patrol Agent, they are also provided with housing, food, free medical services, and even a plane ticket to a location of their choosing within the United States.
He further explained, "They used to do the monitors on the ankles, and those were being cut off. So now they give them phones."
#BidenBorderCrisis: Approx 40% of the airport traffic this morning at Texas' McAllen International appear to be migrants headed within the US.

They are carrying boarding passes & paperwork that indicates they do not speak English. pic.twitter.com/7bT7UwYhUS

— Jenn Pellegrino 🇺🇸 (@JennPellegrino) March 27, 2021
The Border Patrol Agent also emphasized that cartels play a major role in preparing illegal immigrants before they cross the border.
"Cartel tells them everything. Word of mouth. These guys know everything that we do. It's just the way it is," the agent said.
The illegal immigrants are well-informed on U.S. immigration procedures, including what to say when seeking asylum.
Furthermore, not only are these individuals being coached on how to present their asylum claims, but they are also arriving with all the necessary documents, such as pre-printed birth certificates from their home governments, as reported by Bensman.
During the Biden administration, homeless veterans and Americans found themselves without adequate support, leaving senior citizens to receive only $1,400 per month in Social Security payments.
Also, victims of the fires in Maui only got a one-time payment of $700.
Watch:
RARE: Border Patrol agent discusses scam of single parents: gov "cost-of-living checks." will need to independently confirm but hmmmm near Fronton, Texas where Central Americans are pouring in on evidence that Bidengov is quickly releasing families and solo teens pic.twitter.com/2HZw3kP4KQ

— Todd Bensman (@BensmanTodd) September 6, 2023