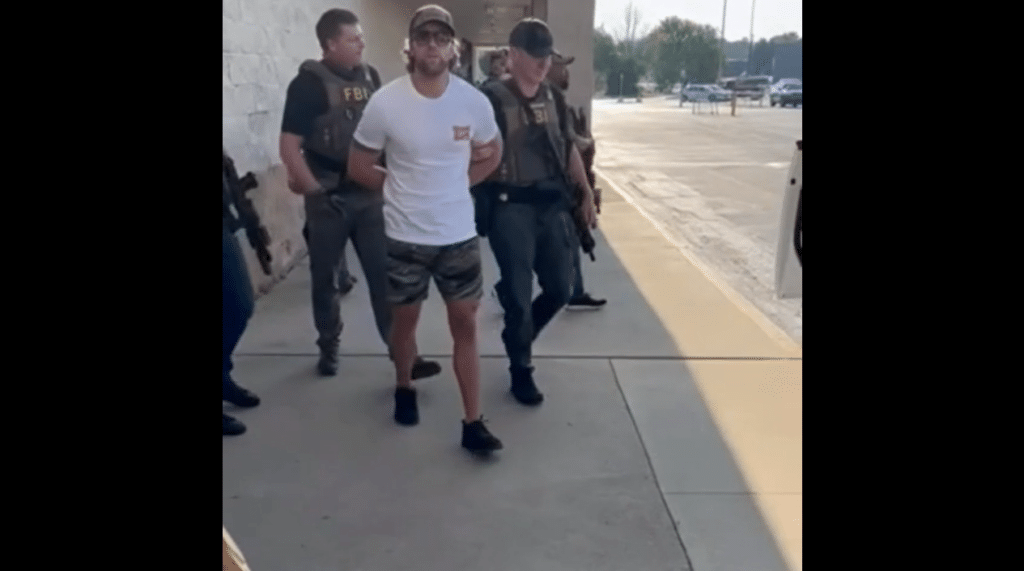 Liberty Safe, a well-known manufacturer of gun safes, is facing scrutiny due to its compliance with an FBI request to provide the combination to a safe owned by Nathan Hughes, who was present at the January 6, 2021 Capitol protest.
The Hodgetwins, Keith and Kevin Hodge, exposed this development by revealing that their friend, Nathan Hughes, was arrested in Fayetteville, Arkansas, on Wednesday, August 30. They highlighted the disparity in treatment between Hughes and members of groups like BLM and Antifa, raising questions about the motivations behind these differing actions.
According to the Hodgetwins, Nathan Hughes was subjected to an FBI raid and arrested at gunpoint due to his involvement in the January 6th Capitol protest, which occurred more than two and a half years ago.
"On the morning of August 30th, 2023, I was swarmed by 3 vehicles of heavily armed FBI agents and arrested with rifles pointed at me. I was booked and taken to a government facility where they made me give them DNA samples," said Hughes in his GiveSendGo.
Simultaneously, the FBI conducted a raid on Hughes's residence, disabling his security cameras and disconnecting his internet. Nathan Hughes's girlfriend, who had recently experienced a miscarriage, was also subjected to being held at gunpoint and restrained.
Furthermore, in addition to deactivating his security cameras and internet, the FBI contacted the manufacturer of Hughes's gun safe. Upon receiving evidence of a valid warrant, the company willingly disclosed the passcode to the safe to the FBI.
"At the same time, my home was raided by 10+ vehicles filled with armed FBI agents. They ordered my girlfriend Taylor out of the house with her hands up and had rifles pointed at her too. They put her in handcuffs, unplugged our home security cameras, and turned our house upside down searching it. A bunch of stuff from electronics to clothes was taken and we can't find one of our security cams. They called the manufacturer of my Liberty Safe, got the pass code from them, and got into it too. Thank God our dogs weren't harmed," said Hughes.
Per Hughes, he was released with a GPS tracking ankle monitor and is confined to Northwest Arkansas, unable to leave the area.
"I can't talk about the case (it's from January 6th 2021 at the Capitol), but I can say there are many things out there that paint me as violent anti-American domestic terrorist…and I wholeheartedly am NOT that. I've got a long legal journey ahead now and will face this head on and post updates. Thank y'all for your support," he said.
The Hodgetwins:
Last week, a friend of ours was raided by the feds over J6, his name is Nathan Hughes and he's from Fayetteville, Arkansas. Nate was raided by the FBI and arrested at gun point. His girlfriend (who just had a miscarriage) was held at gun point and put in handcuffs. The FBI turned off his security cameras, unplugged his internet, and flipped his house upside down in a search. The feds called the manufacturer of his Liberty Gun Safe and got the passcode to get into it too. All for protesting at the Capitol over 2 1/2 years ago.

He is being charged with crimes related to January 6th. He didn't assault anyone and he didn't vandalize anything. He is being labeled a domestic terrorist and a traitor to his country by woke leftists and the media.

Nate is just like us…he's an outspoken American Patriot…he loves freedom, loves his country, and would do anything to preserve our rights. He's been fighting to save our country for years now.

He's also a small business owner with a family that relies on him.

We all know how heated this political climate is getting, but they've pushed too far and it's time for people to speak up for people getting screwed by the system. BLM and Antifa can go burn down our cities and get off the hook, but Trump supporters get raided and rounded up for protesting.

Nate's legal bills to fight these charges will be over $100,000, so we're donating $5,000 to Nathan's defense fund to start it out, and hope you can donate something too. Link in next tweet.
🚨 Last week, a friend of ours was raided by the feds over J6, his name is Nathan Hughes and he's from Fayetteville, Arkansas. Nate was raided by the FBI and arrested at gun point. His girlfriend (who just had a miscarriage) was held at gun point and put in handcuffs. The FBI… pic.twitter.com/LOpMQ28eUJ

— Hodgetwins (@hodgetwins) September 5, 2023
Another angle of the FBI arrest of Nathan Hughes over J6

The feds REALLY didn't want people getting close and videoing them pic.twitter.com/l6UFDMBGT5

— Hodgetwins (@hodgetwins) September 7, 2023
Liberty Safe has released a statement to clarify its position regarding cooperation with law enforcement. The company asserts that it shares access codes with authorities solely when presented with appropriate legal documentation and emphasizes that it has previously declined requests lacking a valid warrant.
Read below:
On August 30, 2023, Liberty Safe was contacted by the FBI requesting the access code to the safe of an individual for whom they had a warrant to search their property. Our company protocol is to provide access codes to law enforcement if a warrant grants them access to a property. After receiving the request, we received proof of the valid warrant, and only then did we provide them with an access code. Liberty Safe had no knowledge of any of the details surrounding the investigation at the time.

Liberty Safe is devoted to protecting the personal property and 2nd amendment rights of our customers and has repeatedly denied requests for access codes without a warrant in the past. We do not give out combinations without proper legal documentation being provided by authorities.

We regularly update our policies to ensure both compliance with federal and state law and reasonable consumer privacy protections within the law. First and foremost, Liberty Safe is committed to preserving our customers' rights, and we will remain unwavering in those values.
September 6, 2023
Following the shocking revelation, cyber sleuths swiftly delved into Liberty Safe Inc., and their discoveries probably won't be a surprise to anyone.
It turns out, Liberty Safe's parent company, Monomoy Capital Partners, donated nearly a half of million to gun control Democrats.
Liberty Safe was sold to Monomoy Capital Partners in 2021, a liberal East Coast investment firm. I pulled the FEC reports on the company and found approximately $400,000 over the last 10 cycles of max donations to Democrats like:

Raphael Warnock in GA
John Fetterman in PA… pic.twitter.com/WqnlQpPnrA

— Charlie Kirk (@charliekirk11) September 7, 2023