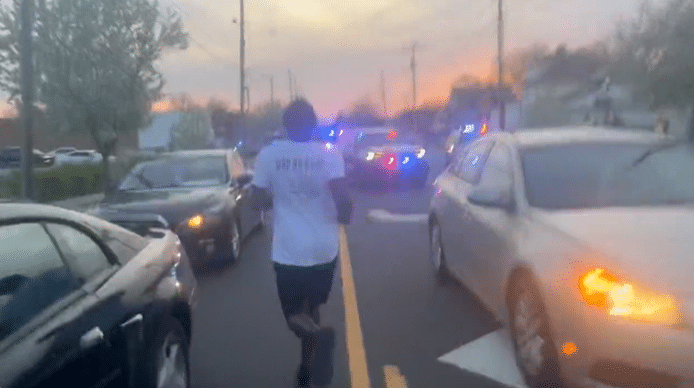 BLM terrorists assaulted police officers and damaged businesses during a riot in Akron Wednesday night, after a grand jury voted against indicting the eight police officers who killed 25-year-old Jayland Walker.
On June 27th, Walker was shot and killed by police in Akron, Ohio, after refusing to stop for them, leading police on a dangerous car pursuit, and firing at officers from his vehicle.
Ohio Attorney General Dave Yost announced the officers involved would not face criminal charges for shooting Walker.
Yost said the evidence clearly showed that Walker shot first and the police acted in self-defense.
Regardless of the facts in the case, the BLM terrorists launched a full-scale riot, assaulting police by throwing rocks and bottles at them and damaging businesses in the area.
More than a hundred terrorists flooded the area, holding signs that read, "Justice for Jayland" and parking their cars in the middle of the street to block traffic.
However, justice was served. Walker refused to comply with the police, led them on a dangerous car chase and shot at them. The outcome wasn't hard to predict. The police did their job. The grand jury voted correctly in declining to indict the officers.
One unhinged BLM terrorist stormed toward the police screaming "Go ahead, I dare you n****rs, I dare you n****rs, I'ma die about this b***h!"
"Imma burn this b***h down on my kids!"
Watch:
Police were left with no choice but to deploy pepper spray and smoke bombs as the terrorists refused to comply with their commands to get out of the street and onto the sidewalk.
News 5 Cleveland reported that several businesses suffered damage during the violent riot:
Some Akron business owners are waking up Thursday morning to find their properties damaged, with windows at several downtown restaurants broken and glass scattered across the sidewalk.

The damage comes just hours after police had to use pepper spray to disperse a crowd of protesters demanding justice for Jayland Walker.

Wally Waffle, Irie Jamaican Kitchen, and Chipotle all have broken windows from rocks being thrown, and shards of glass are littering Market Street.

The Evans building downtown on Exchange Street also had one window damaged overnight. It was one of the few downtown buildings that were not boarded up.
Here is a video of some of the damage caused in the riot: