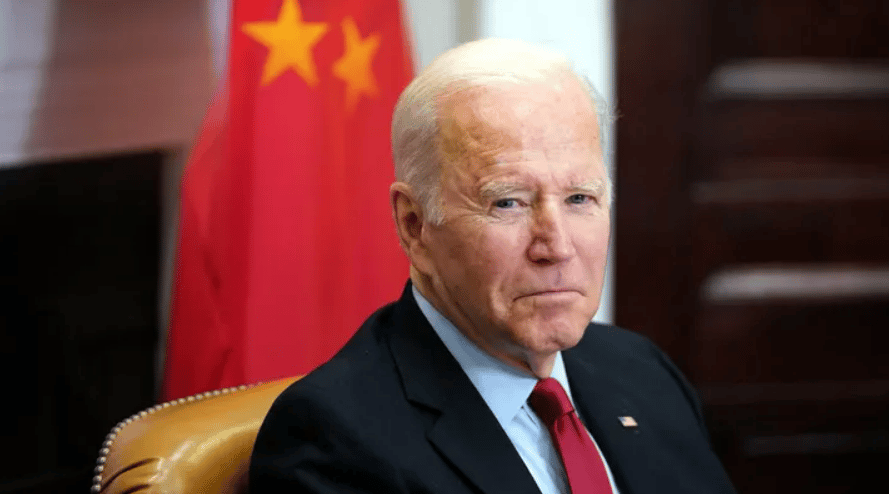 The government has been tracking a massive Chinese spy balloon that has been surveilling the United States, a senior U.S. official said on Thursday.
After evaluating the threat, the U.S. Military and the compromised White House resident decided against shooting down the balloon because of the risk of falling debris possibly injuring people on the ground.
Biden's decision to allow the Chinese spy balloon to continue flying over the United States has sparked massive backlash.
Montana, where the surveillance balloon was most recently spotted, is home to one of the country's few nuclear missile silo sites at Malmstrom Air Force Base.
The suspicious balloon, reportedly the size of three school buses, is currently being tracked by the U.S. government, but Montana lawmakers don't believe the Biden administration is doing enough to combat the potential threat.
"From the spy balloon to the Chinese Communist Party spying on Americans through TikTok to CCP-linked companies buying American farmland, I'm deeply troubled by the constant stream of alarming developments for our national security," Gov. Greg Gianforte, R-Mont., wrote in a statement addressing the high priority concern.
Sen. Steve Daines, R-Mont., a fifth generation Montanan, demanded there be a "full security briefing from the administration on this situation."
"The fact that this balloon was occupying Montana airspace creates significant concern that Malmstrom Air Force Base (AFB) and the United State's intercontinental ballistic missile (ICBM) fields are the targets of this intelligence gathering mission," Daines wrote in a letter to Austin amid growing concerns over the balloon.
Speaker of the House Kevin McCarthy demanded a "Gang of Eight" intelligence briefing on the matter, while tweeting that Biden "cannot be silent" about China's actions.
"China's brazen disregard for U.S. sovereignty is a destabilizing action that must be addressed, and President Biden cannot be silent," McCarthy tweeted. "I am requesting a Gang of Eight briefing."
"Biden should shoot down the Chinese spy balloon immediately," tweeted Georgia GOP Representative Marjorie Taylor Greene. "President Trump would have never tolerated this. President Trump would have never tolerated many things happening to America."
She is not wrong.
"Why won't Biden shoot down the Chinese spy balloon that is currently flying over the United States?" Tennessee Republican Senator Marsha Blackburn tweeted. "The Chinese Communist Party is a threat to our existence."
"How on Earth is Beijing Biden allowing a CCP military balloon to fly freely over Montana?" tweeted Arizona GOP Representative Andy Biggs. "Biden is a feckless commander in chief."
"China is laughing at President Joe Biden," tweeted conservative writer Carmine Sabia. "A suspected Chinese spy balloon in United States airspace. Imagine them attempting that with any other president."
"The Biden Administration is allowing a foreign communist enemy (China) to fly a surveillance balloon over our country to spy on American citizens," failed Republican congressional candidate Robby Starbuck tweeted. "In a sane world everyone involved would be impeached and/or fired and the balloon would be shot down."
"The Pentagon said the quiet part out loud," tweeted conservative activist and commentator Jack Posobiec. "The CCP can send spy balloons over our nuclear silos and we will do nothing Bc we are owned"
President Trump truthed: "SHOOT DOWN THE BALLOON!"

General Mi Li.
Sen. Tom Cotton tweeted, "Secretary Blinken should cancel his trip to China. And President Biden must answer why he has not secured U.S. airspace."
FOX Business' Maria Bartiromo tweeted: "The only thing to conclude is the CCP must have so much onthe Biden family, this administration will not react to any of the CCP provocations. -Cancelled the china initiative, soft on IP theft, COVID 19 origins no questions whatsoever about it and now this"