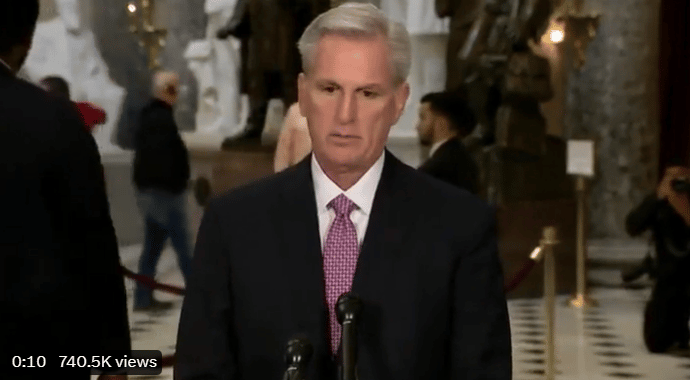 House Speaker Kevin McCarthy stated he believed Mike Byrd, the police officer who murdered Trump supporter Ashli Babbitt, was "just doing his job".
On Thursday, McCarthy was asked by a reporter if he thought Ashli Babbitt was murdered by Officer Mike Byrd.
McCarthy answered, "I think the officer was doing his job."
Watch:
Not good.
President Trump immediately responded on Truth Social: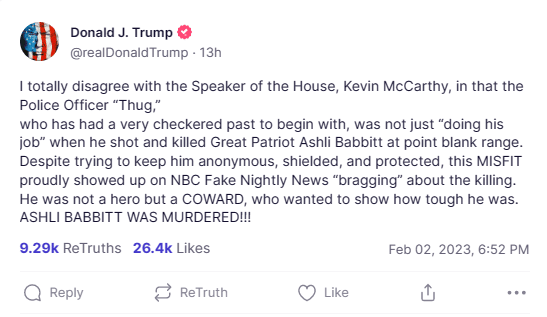 On January 6, 2021, U.S. veteran and Trump supporter, Ashli Babbitt, was shot and killed by Capitol Police Lt. Mike Byrd in the US Capitol.
Ashli Babbitt weighed 98 pounds, posed no threat, and was unarmed.
The Hill reported:
House Speaker Kevin McCarthy (R-Calif.) broke with Rep. Marjorie Taylor Greene (R-Ga.) on Thursday when asked about the death of Ashli Babbitt, who was shot and killed by Capitol police during the Jan. 6, 2021, attack, concluding she was not murdered, as Greene has said.

"I think the police officer did his job," McCarthy told reporters when asked if he agreed with Greene that Babbitt was murdered.

Babbitt's case came back into the spotlight this week when Greene compared her case with that of Tyre Nichols, the 29-year-old Black man who died after being beaten by officers in Memphis.