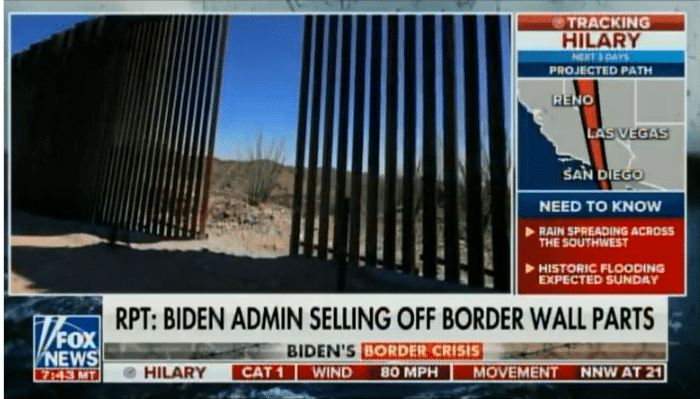 On day one of Joe Biden's White House residency, he opened the U.S. Southern border and ended all construction of President Trump's border wall.
For years, surplus parts and sections of the border wall remained in the desert, gathering dust.
And in the time that the taxpayer-funded border wall lay in pieces, left to rust in the desert, 7 million immigrants have entered the U.S. illegally.
Last month, a bill moved through the Senate, demanding that the Biden regime either extend the border wall or permit states to use its parts for security.
Rather than using these resources for security purposes, they are quickly, and quietly, selling them off for peanuts in order to block the GOP from using them.
On Sunday, Maria Bartiromo reported that the Biden administration sold up to $300 million worth taxpayer-funded border wall parts for $2 million.
Watch:
The New York Post reported:
The Biden administration is quietly auctioning off millions of dollars' worth of unused parts from former President Trump's border wall for peanuts – in an apparent end-run around pending legislation in Congress.

Since April, GovPlanet, an online auction house specializing in military surplus, has sold 81 lots of steel "square structural tubes" — intended for use as vertical bollards in the border barrier's 30-foot-tall panels — hauling in about $2 million.

On Tuesday, GovPlanet netted $154,200 for 729 of the 28-foot-tall hollow beams, sold in five separate lots for an average $212 apiece.

Thirteen more lots are set to be auctioned on Aug. 23 and Aug. 30.

But just last month, as part of its annual defense appropriations package, the Democrat-led Senate passed a Republican-sponsored bill aimed at forcing Biden to stem the worsening migrant crisis at the US-Mexico border by extending the wall.

Up to $300 million worth of taxpayer-funded wall components have been left to rust since Biden came to office, Republicans have said.

The Finish It Act will make the feds use those materials on new wall construction — or hand the remaining stock over to states like Texas for use in their own border defense projects.

Now, the Biden administration is rushing to get rid of the wall leftovers before the GOP-led House can pass a matching version of the bill and make it law, critics told The Post.