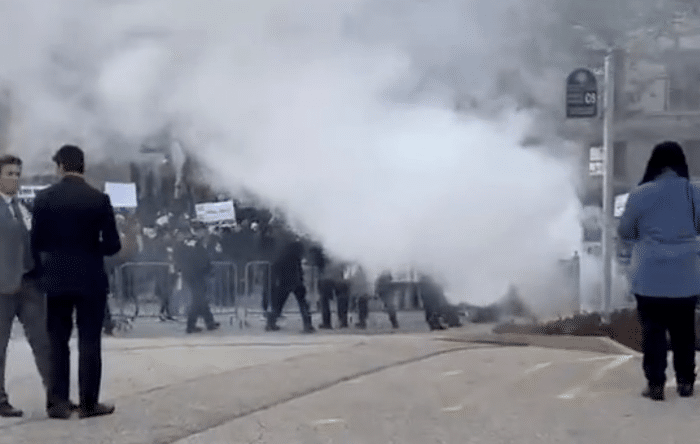 A federal grand jury in Pennsylvania has indicted two Antifa militants, identified as Brian DiPippa, 36, and Krystal DiPippa, 40. The indictment alleges that the couple attacked law enforcement officers with fireworks and smoke bombs during a University of Pittsburgh (Pitt) speaking event earlier this year.
The incident occurred during a protest outside an event featuring Michael Knowles, a contributor for the Daily Wire, in April. Prosecutors have charged the DiPippas with assaulting attendees by deploying smoke bombs at close range while they were in line.
According to the indictment, "Brian DiPippa ignited and dropped two homemade smoke bomb containers in and around a line of persons waiting to enter the O'Hara Student Center,"
The indictment additionally claims that Brian DiPippa caused harm to several Pitt Police officers by assaulting them with fireworks while they formed a barrier to prevent protesters from accessing the venue. According to the indictment, Brian DiPippa, aided by his wife, Krystal DiPippa, concealed his actions and ignited a large explosive firework that was thrown into the group of Pitt officers. This resulted in a loud explosion and inflicted injuries upon several officers.
Video footage captured in the aftermath of the explosion shows officers quickly clearing the area. Protesters were observed burning a dummy with Michael Knowles' face affixed to it and subsequently caused the closure of multiple streets until the Pitt Police resolved the situation at approximately 10 p.m.
Both Brian DiPippa and Krystal DiPippa are now facing federal charges that include conspiracy and obstruction of law enforcement during civil disorder. In addition, Brian DiPippa is specifically charged with using an explosive device to commit a federal felony, an offense that carries a mandatory minimum sentence of ten years in prison.
"The university appreciates the diligence of law enforcement agencies that partnered on the investigation into the devices used during demonstrations on campus on April 18,"  stated Jared Stonesifer, spokesperson for Pitt, in a Friday statement. "The arrest of the suspects today marks the next step in the process, and we will continue to fully collaborate with federal agencies."