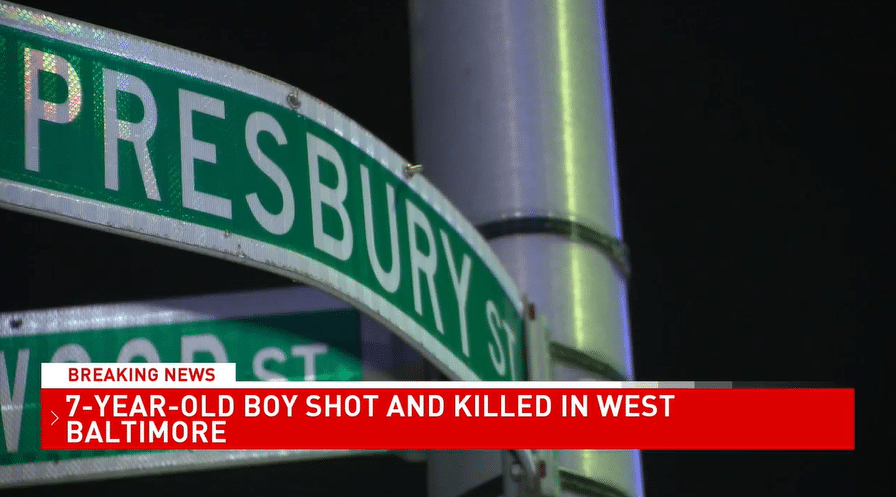 A 7-year-old boy was killed after being shot in the head in west Baltimore, according to Baltimore City Police Commissioner Michael Harrison and Baltimore Mayor Brandon Scott at a press conference on Friday night.
Harrison says at around 5:06 pm this afternoon, officers were called to the 2100 block of Presbury St. and found a small boy in the home with a gunshot to the head.
Officers immediately gave the child medical attention, and the child was then taken to John Hopkins Hospital where he was pronounced dead, said authorities.
Officers also found an 18-year-old man in the home and have taken him into custody. The man is undergoing a psychiatric evaluation and will be interviewed extensively about what happened inside the home, Harrison said.
Police say the incident is being investigated as a homicide.
As of Friday morning, there had been 332 homicides in Baltimore so far this year.
Kenny Ebron, a community leader and friend of the boy's family, is critical of the mayor, when talking about those 332 murders. Ebron says it's the mayor who should be held accountable for the city's continued gun violence.
"Since he's been in office there've been over 1,490 people shot in the city of Baltimore where there is over 670 of them dead within two years right here in our city of Baltimore," said Ebron.
Watch Mayor Brandon's callous response to the tragedy below: