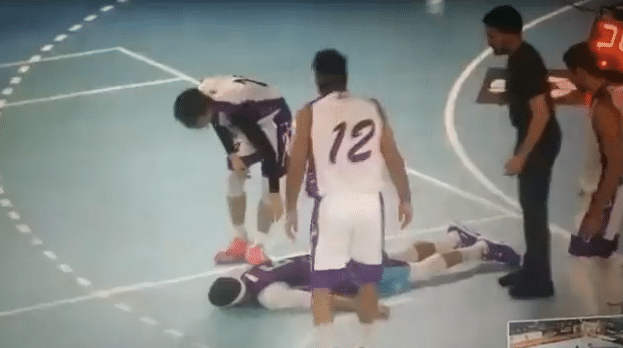 Tragically, 28-year-old basketball player Oscar Cabrera is said to have passed away due to a heart attack during a stress test conducted at a health center. Cabrera had recently been diagnosed with myocarditis. He attributed his medical condition to the COVID-19 vaccine mandates imposed for international travel, as he was attempting to resume his basketball career. Specifically, Cabrera believed that his diagnosis was a result of receiving two doses of the Pfizer vaccine.
The following post was translated from Oscar Cabrera's Instagram account:
"I got a damn Myocarditis from putting a fucking vaccine. (I got 2 doses of Pfizer) And I knew it! Many people warned me. But guess that? It was compulsory or I couldn't work. I am an international professional athlete and I am playing in Spain. I have no health problem, nothing, not hereditary, no asthma, NOTHING! I suddenly collapsed to the ground in the middle of a match and almost died. I'm still recovering and I've had 11 different cardiology tests done and guess? They find nothing. I have no cholesterol, no fat, nothing! 7% body fat 93% muscle. When they give me the diagnosis, they tell me that I won't be able to play for at least 5 months until my heart goes down again and they can't give me that medicine"
In 2021, during a basketball game in Spain, Cabrera suddenly collapsed on the court before receiving his myocarditis diagnosis.
Watch:
The COVID Blog reported on Cabrera's sudden collapse in 2021:
Mr. Cabrera, 26, began convulsing as both teammates and opponents stood there shocked, not knowing what to do or think. Team doctor Fernando Cortina and other medics eventually stabilized Mr. Cabrera, 26, enough to get him on a stretcher and off the court. Mr. Cabrera gave a thumbs-up as he was carried out of the arena to an ambulance. The game was suspended indefinitely.

Doctors at Marques de Valdecilla University Hospital performed a battery of tests that evening and determined Mr. Cabrera suffered a syncope. The condition, pronounced "SIN-ko-pea," is a temporary loss of consciousness due to insufficient blood flow to the brain or a sudden drop in blood pressure. This blogger has been a journalist for 25 years and was a sports reporter for four of those years. Never has the world "syncope" been written or thought of until now, particularly related to basketball.