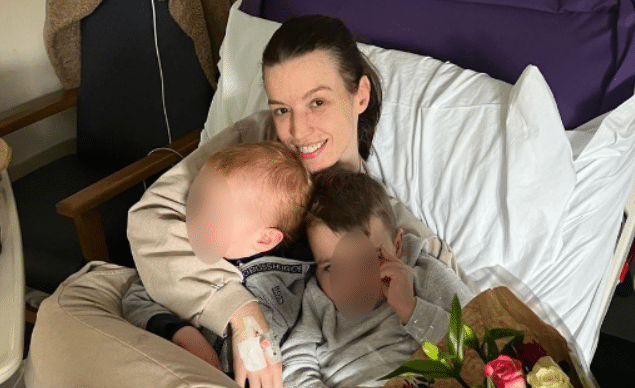 TikTok star Jehane Thomas died suddenly at the age of 30, only days after she shared an emotional post on social media about her persistent migraines.
Thomas' friend Alyx Reast shared the news via a GoFundMe page that was created Friday to raise money for funeral costs and for her two sons.
In the description of the GoFundMe page, Reast noted that her friend's passing was unexpected, despite some of the health challenges she was facing.
"Jehane Thomas was a 30 year old, mum of two boys when she suddenly passed away on 17/03/2023," the description reads.
"Despite suffering from migraines and bouts of illness for several months, her passing was totally unexpected and we are all absolutely heartbroken."
Thomas, who has nearly 75,000 followers on TikTok, documented many of her frequent trips to the hospital.
Tributes have poured in on social media following the sad news of her sudden death.
Jehane's friend and another parenting TikTok star, Kelly Medina Enos said: "I really have no words for the news we have found out today. Thank you to your family and friends for allowing me to post my respects.
"My heart is broken, for you, for your family, friends and the boys. Fly high my angel. Life is so short. I love you. Kelly x."
Jade Newby said: "After some very sad news today it just puts life into perspective even more! It scares me to death the thought of me not being here for my boy."
"You just never know whats around the corner. I preach a lot that life is too short and we have to enjoy every single minute because we never know when our time is up. I would like to pay my respects to Jehane Thomas and send love to her friends, family and especially her baby boys. I cannot even begin to imagine. May you rest in peace."
Theresa Parker said: "I can't tell you that I'm in shock to learn that my friend Jehane Thomas has suddenly passed away. I first met her at a previous job and we was in the same team. Then she was the person that introduced me to my now home based travel business."
"We have been to many events together and I know she will be sadly missed by those that knew her. Sending all my love to her family and especially her two boys.
Emma Taylor said: "Jehane I been following you for a while now u was most beautiful friendly lady you don't deserve any of this rip still can't get my head around it you was loved by thousands of people and were a lovely friend."
Friend and Jehane's former hairdresser Eila Rowe said: "Absolutely heartbroken to hear one of the most beautiful people inside and out and best mummy I've had the privilege to have walk through my salon doors. You were always loved by so many and I'm so glad I had the honour of meeting you and I can see exactly why you were and still are loved so much."