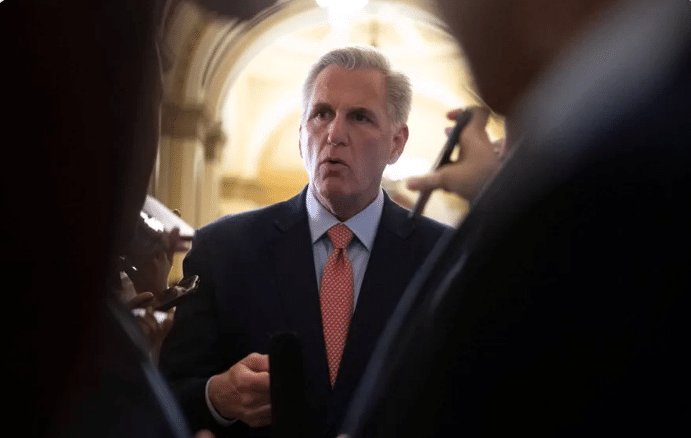 House Speaker Kevin McCarthy has called for a congressional investigation into Joe Biden's failed response to the disaster in Maui.
In the aftermath of the catastrophic damage suffered by the people of Maui, Biden took back-to-back vacations, in Delaware and Lake Tahoe, offered a mere $700 to each affected family and made callous (and bizarre) remarks before and during his visit to Maui.
McCarthy now wants to hold Biden accountable for his actions.
Fox News reported:
House Speaker Kevin McCarthy on Wednesday called for an investigation into the Biden administration's handling of the devastating fires in Maui.

"We saw the devastation that happened in Maui…I'm very concerned about the response," McCarthy said at a press conference in the district of Rep. Brandon Williams, R-N.Y.

"We still have hundreds of individuals that are missing. I think there's going to have to be a congressional investigation into the response on Maui. How could you lose that many Americans?"

He also criticized President Biden for refusing to comment on the wildfires earlier this month while leaving a Delaware beach.

"The president's response – had no comment. That's unacceptable," McCarthy said. "So I am going to work with committees to look at investigating what went on so that never happens again."

The White House did not immediately respond to a request for comment.
Whether or not McCarthy and House Republicans will take action and hold Biden accountable remains to be seen, but an investigation is absolutely needed.
If we had a true leader in the White House, like President Trump, the response would have been very different.
Speaker McCarthy has suggested an investigation into the Biden response to Maui.

That is absolutely necessary.

Every time a crisis strikes, Biden fails.

— Lauren Boebert (@laurenboebert) August 24, 2023
🚨 BREAKING: House Speaker Kevin McCarthy has announced an immediate Congressional investigation into the federal government's failure to address the deadly Maui wildfires.

ACCOUNTABILITY IS NEEDED!!!!https://t.co/ytr6kQFqnd

— Proud Elephant 🇺🇸🦅 (@ProudElephantUS) August 25, 2023