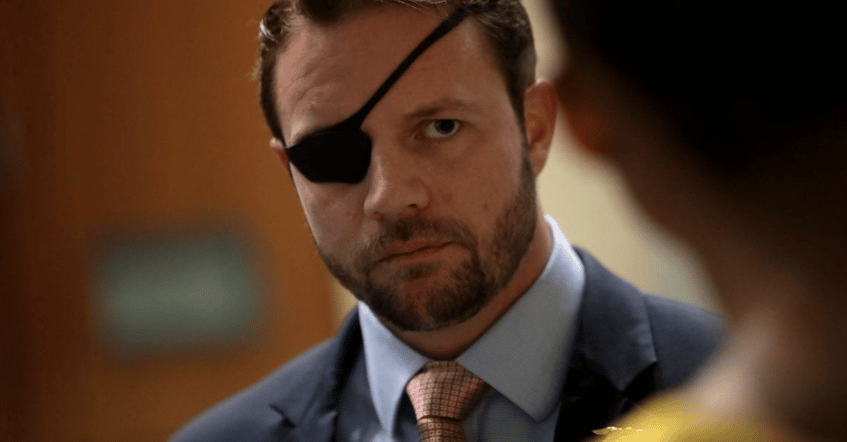 Rep. Dan Crenshaw of Texas just lost his bid for House Homeland Security Committee chairman to Republican Mike Green of Tennessee.
Crenshaw's loss comes just a few days after he called Matt Gaetz and 19 other Republicans who refused to vote for McCarthy, terrorists.
In addition to calling them terrorists, Crenshaw also called the 20 Republican holdouts "charlatans" and "enemies."
Watch:
Moments after threatening and labeling the holdouts "terrorists", Crenshaw was pictured with bloody knuckles.
Crenshaw later walked back those comments, following huge backlash, during an appearance on CNN's State of The Union program.
He claimed that it was "clearly a turn of phrase" and that he wasn't calling his colleagues actual terrorists, though he also admitted to being "taken aback" by the "sensitivity" of his colleagues who got offended at his criticism.
"To the extent that I have colleagues that were offended by it, I sincerely apologize to them. I don't want them to think I actually believe they're terrorists. It's clearly a turn of phrase that you use in what is an intransigent negotiation," Crenshaw said.
Watch:
More from The Hill:
Here's who the Steering Committee picked for contested chairmanships.

Green beat out Rep. Dan Crenshaw (Texas) to fill a vacancy created by former Rep. John Katko (N.Y.) retiring from Congress.

Green told reporters that he plans to have two full-time committee staffers working from the U.S.-Mexico border.

The staffers will "be sitting there with [Customs and Border Protection]," Green said, "sending us real time updates on what CBP needs and the issues – whether it's a big drug bust at the border, we'll send a bunch of members down for, you know, for that and those kinds of things."
The Daily Mail reported:
In what could be a sign of conservatives' newly-expanded influence over the House GOP, House Freedom Caucus member Rep. Mark Green won the top spot on the Homeland Security Committee over Republican star Rep. Dan Crenshaw.

Green was chosen by the House Republican Steering Committee to chair the panel, which has oversight capabilities over the Homeland Security Department including the southwestern border.

Both he and Crenshaw – each a supporter of new House Speaker Kevin McCarthy – had signaled they would take a hardline approach to the migrant crisis at the U.S. border with Mexico.