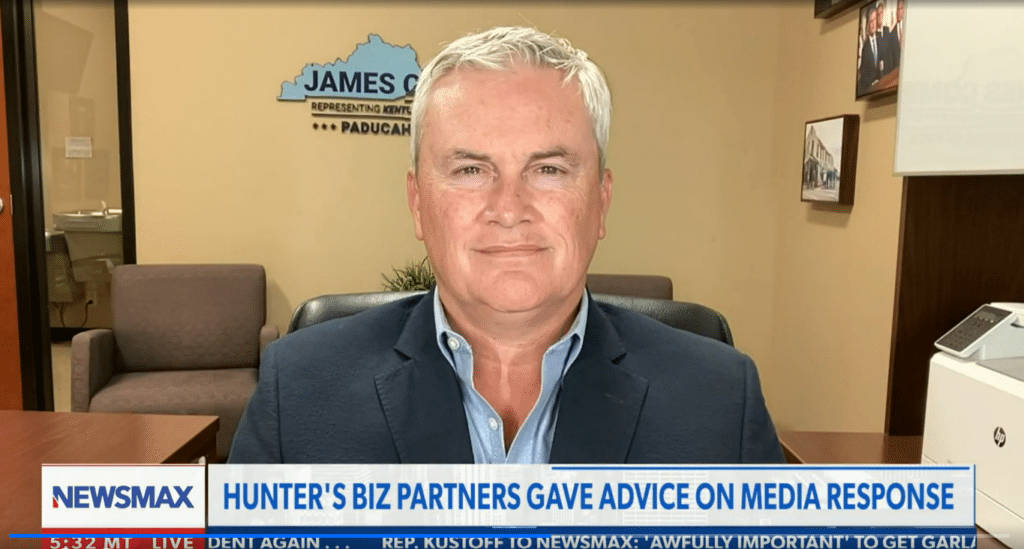 House Republicans have talked a lot about the possibility of impeaching Joe Biden, but there has been little to no action toward initiating the process.
On Thursday, James Comer, who leads the House Committee on Oversight and Accountability, said a House impeachment inquiry into Joe Biden could come as soon as the middle of this month.
Rep. Comer also shared with Rob Schmitt on Newsmax that he is confident there is sufficient support among Republicans to ensure its passage.
Newsmax reported:
James Comer, chair of the House Committee on Oversight and Accountability, suggested Thursday that a House impeachment inquiry into President Joe Biden could come as early as the middle of this month.

The GOP Kentucky lawmaker also told Newsmax's "Rob Schmitt Tonight" that he believes there are enough Republican votes for it to pass.

"I think the House will vote in September. And this is all up to [House Speaker] Kevin McCarthy [R-Calif.], but he and I have had several conversations. I know [House Judiciary Chair] Jim Jordan [R-Ohio] has spoken with him many times, as well.

"I would predict that in the middle of September, we have a vote. I would predict that it passes."

Comer also said the inquiry would be helpful for gaining information from federal agencies, like the National Archives and the Internal Revenue Service, that have slow-walked providing requested bank records.

"I believe that we've gotten more information than anyone could have ever dreamed possible, and yet, there's still a lot of information left to get," he emphasized.

The chair further acknowledged that a number of Republicans were initially "nervous" about the prospects of an inquiry.

However, allegations that Joe Biden communicated with his son, Hunter Biden, through pseudonyms about foreign business dealings "was the straw that broke the camel's back" for them.

"They realized that we need this tool to be able to win in court because that's where we're headed," Comer insisted. "We've just about picked all the low-hanging fruit."
Watch:
Assuming Comer's prediction holds true and the vote takes place in mid-September, the inquiry is expected to reveal a lot of interesting information that has been relatively unknown to a lot of the American public. All the questionable activities will suddenly become widely known to a much larger audience. People who already have concerns about Biden, believing that he is too old and not mentally fit, will learn that he is also a criminal.
Earlier this week it was reported that Joe Biden has hired an "Impeachment War Room" inside the White House with dozens of lawyers to battle the House GOP's investigation into his multimillion dollar foreign influence peddling.
.@Jim_Jordan: "The White House is getting ready because they know what's likely to happen later this month… If we need to go to the Impeachment Inquiry phase of our oversight work, we will do that…

Mr. Comer subpoenaed documents and individuals from DHS and the Secret… pic.twitter.com/XoAwnxw4IB

— KanekoaTheGreat (@KanekoaTheGreat) September 6, 2023