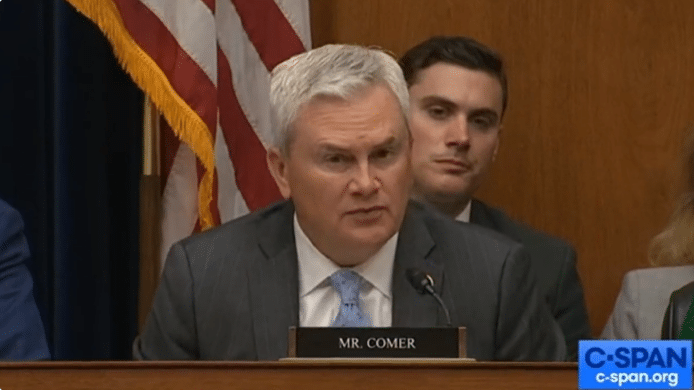 House Committee on Oversight and Reform ranking member Rep. James Comer (R-KY) brought the heat at Tuesday's hearing on the origins of COVID-19.
During the hearing, Rep. Comer accused Anthony Fauci of orchestrating a cover-up in order to dodge accountability.
Speaking to Former Director of National Intelligence, John Ratcliffe, Rep. Comer asked, "Once you became director, did Dr. Fauci relay any of these concerns to you?"
"He didn't," Ratcliffe replied.
"That it may have come from a lab?" Comer clarified.
"He did not," Ratcliffe reiterated.
"Why do you think he did not?" Comer asked.
"Well, I would obviously have to speculate, but I would point you to Dr. Fauci being perhaps the best person to answer that," Ratcliffe replied. "And there is publicly available — under information that has been obtained through open sources and freedom of information —  where Dr. Fauci and other virologists and scientists talk about the fact that it would bring unwanted attention to funding sources and the research that was taking place using funding sources, domestic funding sources from the United States and the relationship of certain Western scientists with scientists at the Wuhan Institute of Virology, where unsafe coronavirus research was taking place in labs that did not have appropriate biosafety levels and precautions as had been reported."
"Wow. This is so bad," Comer proclaimed. "It just gets worse every day."
"These scientists flipped 180 degrees with no new evidence, produced a paper not based on facts, and then may have used that paper to brief the intelligence community and suppress the lab leak hypothesis," he continued. "This is a how-to manual in orchestrating a coverup by using some of the most powerful and influential institutions in our country."
"If you ask me, this was set in motion by Dr. Fauci to hide US funding of gain of function research and dodge accountability for a virus that has killed more than 1 million Americans," he went on. "This must be investigated. Thank you, Mr. Chairman. And I yield back."
Watch:
Early on during the pandemic, Anthony Fauci along with other experts, dismissed the possibility that COVID-19 was leaked from a lab.
"If you look at the evolution of the virus in bats and what's out there now, [the scientific evidence] is very, very strongly leaning toward this could not have been artificially or deliberately manipulated," Fauci said.
"Everything about the stepwise evolution over time strongly indicates that [this virus] evolved in nature and then jumped species."
Fauci later changed his tune following reports that the lab leak theory was likely, including reports issued by the FBI and the Department of Energy.
"We may not ever know," Fauci said in an interview with The Globe in February 2023.