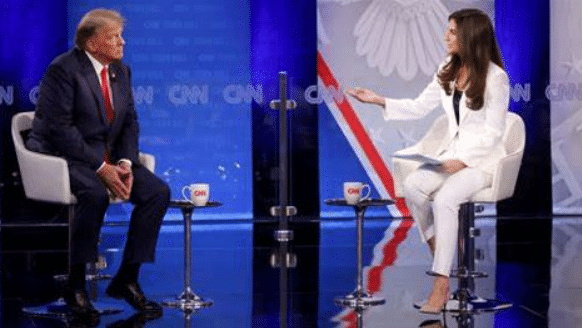 Although many leftists called for a boycott of CNN during the network's town hall with President Trump, they still had a significant boost in ratings on Wednesday night.
The town hall, which aired in the prime time 8 p.m. slot, shattered the network's average number of viewers.
During the town hall with President Trump, the network scored 3.12 million total viewers and 703,000 viewers in the key 25-54 age demographic.
In comparison, CNN's prime-time average is typically around half a million viewers.
That is "five times higher than CNN's typical performance at 8pm," Brian Stelter tweeted. "The event outrated Fox and MSNBC."
The New York Post reported:
The perennially last-place cable network reeled in 3.1 million viewers for Wednesday's 70-minute broadcast that began at 8 p.m., CNN said Thursday.

The ratings easily eclipsed the paltry figures drawn by its regular 8 p.m. news hour hosted by Anderson Cooper, who averages less than 1 million viewers.

CNN said the town hall marked its best rating since the final Jan. 6 hearings, which aired on July 21 of last year.

At the time, CNN logged 3.2 million total viewers, according to Nielsen.

The Kaitlan Collins-moderated town hall from St. Anselm College in New Hampshire also nabbed 703,000 viewers in the vital 25-54 demographic.

It was one of CNN's highest rated programs in years, falling short of the town hall with President Biden on Feb. 16, 2021 — which delivered 3.7 million viewers and 912,000 in the demo.

CNN handily beat out rival networks in the time slot, with Fox News logging 1.4 million total viewers and 125,000 viewers in the coveted demo. MSNBC amassed 1.4 million viewers and 155,000 viewers in the demo.