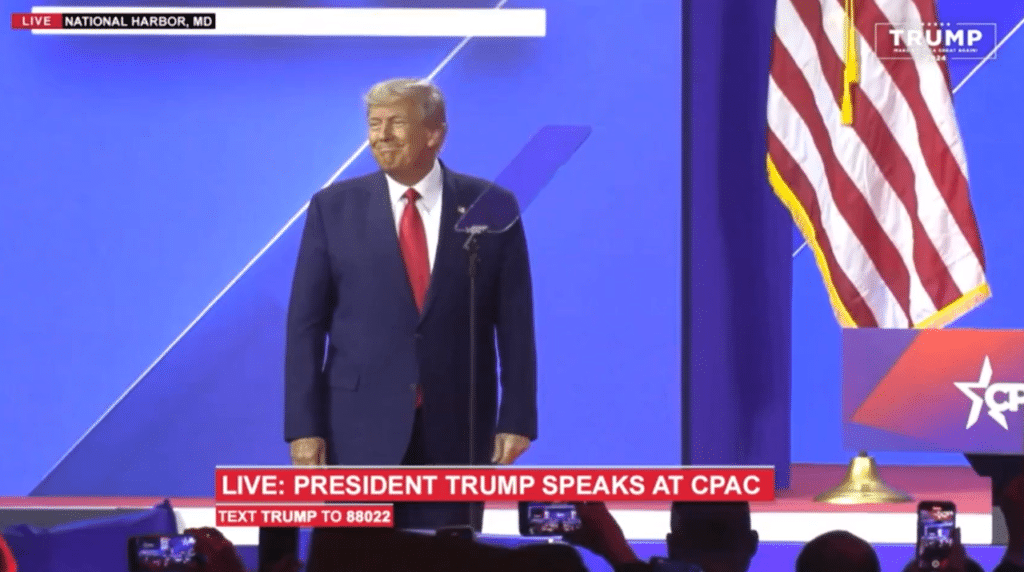 President Trump attended the final day of CPAC 2023 and gave what many are calling his best speech ever.
Before he spoke, CPAC guests were asked to take a straw poll to see who they would vote for to represent the Republican Party in the 2024 presidential election.
President Trump won the poll in a landslide with 62% of the vote to Ron DeSantis' 20%, followed up by MI billionaire businessman Perry Johnson.
Trump said when he comes back in 2024, he's going to move incredibly fast because now he knows all the players and he knows how D.C. works.
President Trump had several great moments during his speech; here are some of the top moments:
TRUMP: "This is the final battle—they know it, I know it, you know it, everybody knows it. This is it. Either they win, or we win and if they win, we no longer have a country."
Among the top issues on his proposed agenda was a promise to fight for parental rights, school choices, and the end of chemical and surgical castration of youth in the United States.
He also promised to keep men out of women's sports.
President Trump: " I will revoke every Biden policy promoting the chemical castration and sexual mutilation of our youth and ask Congress to send me a bill prohibiting child sexual mutilation in all 50 states… And we will keep men out of women's sports!"
President Trump: "We had a Republican Party that was ruled by freaks, neocons, globalists, open border zealots, and fools, but we are never going back to the party of Paul Ryan, Karl Rove, and Jeb Bush!"
President Trump: "In 2016, I declared, 'I am your voice.' Today I add: I am your warrior, I am your justice, and for those who have been wronged and betrayed, I am your retribution!"
President Trump: "On Day One, I will revoke Joe Biden's crazy executive order installing Marxist diversity, equity, and inclusion czars in every federal agency, and I will immediately terminate all staffers hired to implement this horrible agenda!"
President Trump: "Our enemies are lunatics and maniacs. They cannot stand that they do not own me… and they will never ever control me, and they will never ever, therefore, control you!"
President Trump: "They're not coming after me, they're coming after you, and I'm just standing in their way."
President Trump: "Three years ago, we had the safest border in the history of our country, and I will quickly do that again… Under my leadership, we will seal it up and expand that wall until we have total control!"
President Trump: "Before I even arrive at the Oval Office, I will have the disastrous war between Russia and Ukraine settled."
Watch President Trump's full speech below via RedpillUSAPatriots on Rumble: