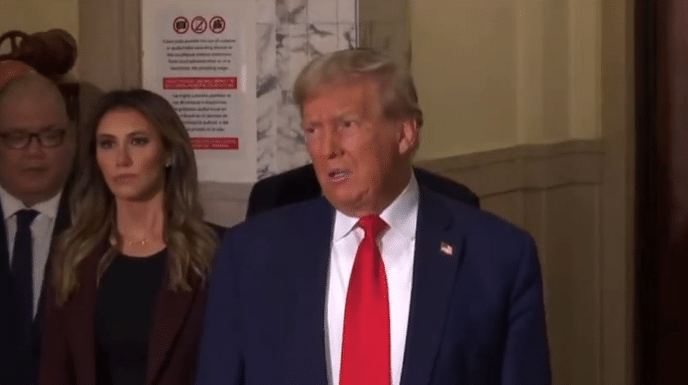 President Trump was back in New York on Tuesday as the $250 million election interference lawsuit against him resumed.
Before today's hearing, President Trump spoke with reporters.
President Trump:
Ladies and gentlemen, thank you very much. We're at a trial today that should not be taking place. As you know, the head of Deutsche Bank recently testified, just testified, and he said that Trump did nothing wrong. We made a loan. We were very happy with the loan. who got paid back. There were no defaults. It was a very good transaction, and he would do it again. He was a very powerful witness. And we have other executives coming in from banks that will say the same thing.

This is a disgraceful situation. This is an Attorney General Letitia that went out and campaigned on, "I will get Trump. I will get Trump no matter what. I'll get Trump. I promise I'll get it." We have two tapes of her now that have come out since the trial because people took tapes of her because they couldn't believe her, ranting and raving like a lunatic. But this is the Attorney General of New York State, Leticia James, and she shouldn't be allowed to be Attorney General. She's defrauded the public with this trial. She said that Mar-a-Lago, she convinced the judge that Mar-a-Lago was worth in Palm Beach, Florida – the most expensive land in the world – I guess, and the most expensive houses, definitely in the world. At Mar a Lago, the biggest house, the most spectacular place in all of Florida, was worth $18 million, when it's worth approximately could be close to 100 times that amount.

And based upon that testimony, and based upon her convincing the judge of Mar-a-Lago was worth $18 million instead of a billion to a billion five, which would sell very easily, which we've already proven. But we'll have people come up and say that and prove it. The most important people, the brokers that make the sales. But based on that, he ruled against me. He ruled fraud.

I mean, he said fraud. They are the fraudulent people, because they ruled a house that was worth 18, they put down as worth $18 million. And it's worth maybe close to 100 times that amount. And based on that, they ruled against me having to do with fraud, which is a big statement, but they are the frauds because the house is worth a billion, a billion and a half, $750,000,000. It's worth a fortune.

It's the most expensive house probably in the world. And they said it was worth $18 million. And they don't do anything about it based on that. And also Doral. They have Doral at a very low number, and it's worth many times the number that they put down.

So they chose to do this. So I just want to say, the head of Deutsche Bank came in. He said we were great, the loan was great, everything was fine, and it was perfect. And this was their witness, wasn't even my witness. And we have other bankers coming in saying the same thing…
Watch:
🚨Donald Trump speaks before headed into court for his New York civil trial pic.twitter.com/w9G6UUCVvv

— Benny Johnson (@bennyjohnson) October 17, 2023
Despite Democrats' ongoing plot to "get" Trump since his presidential candidacy announcement in 2015 and Letitia James and her office having launched investigations into Trump since 2019, she has denied claims that the case was politically motivated.
The American public knows that this entire trial is a sham and nothing more than another example of election interference.