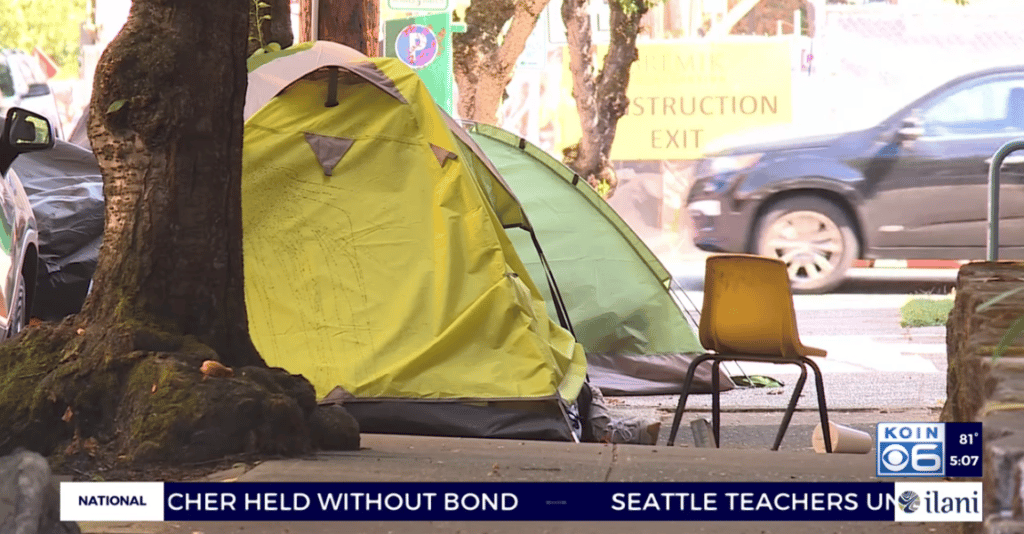 A group of Portland residents with disabilities is suing the city for allowing homeless camps and debris to block city sidewalks.
According to KGW8, the lawsuit argues that the city is in violation of the Americans with Disabilities Act and the federal Rehabilitation Act by failing to provide equal access to sidewalks. 
More from KGW8:
To many, commuting to and from work is an afterthought. But for some people with disabilities, like 22-year-old Lorien Welchoff, getting around on Portland's sidewalks is a full-time job.

"I want the city to fix Portland. Get the homeless people off the sidewalks, make it clear for us," she said at a press conference Wednesday morning. 

Welchoff is a student at the Pacific Northwest College of Art in the heart of Old Town.

"Things have been kind of up and down. A lot homeless tents, other things blocking the way, also human debris," she said.

Tents on Northwest Hoyt and Broadway took up the entire sidewalk outside her school on Wednesday afternoon.

"I'm tired of taking extra-long routes just to get anywhere," she said.

She made a deal with her professors allowing her to be 15 minutes late to class so she has enough time to get around the tents. "Very frustrating and very buggy. I'm always trying to be very aware of my surroundings."

She along with nine other people filed a lawsuit against the city this week.
Read the rest here:
Watch:
Yesterday Breaking Digest reported that some Portland residents say they are done with Portland and feel they have no choice but to sell their homes and move out of the city.
You can read that story here: